Global confectionary company PEZ has produced the exclusive hand-signed candy dispenser creations for Comic Relief and is auctioning them as collectors' items in the run up to Red Nose Day on 15 March.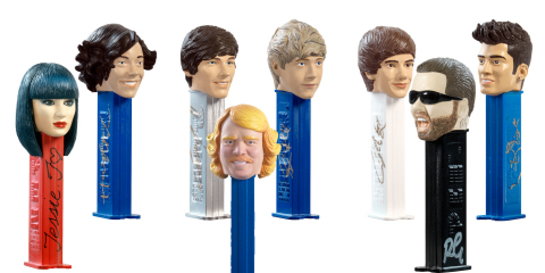 Jessie J said: "I never thought I'd have my own PEZ-head! What an honour! I'm excited about the auction and looking forward to fund-raising as much money as possible for Red Nose Day!"
One Direction also had a special message for fans: "We're all big fans of PEZ and we were really happy when they approached us to create our own PEZ heads! We think it's a great idea that will hopefully raise lots of cash for Comic Relief."
Fans can bid for the three individual PEZ-heads of Jessie J, Keith Lemon and Ricky Gervais, along with the One Direction box set featuring all five members of the band, in a special eBay auction that is starting on Monay 4 March from 7.00pm GMT and will close on Thursday 14 March at 8:30pm.
PEZ is hoping that these new, one-off creations will help raise as much money as possible for the 25th anniversary of Red Nose Day and boost the Comic Relief coffers.
Gabriele Hofinger, Head of Marketing at PEZ, explained: "PEZ dispensers are highly collectable, especially exclusive editions that really are a one-off. The pair that we produced of the Royal couple, Prince William and the Duchess of Cambridge, fetched a staggering £8,200 at a charity auction in 2011."
PEZ marked its partnership with Red Nose Day earlier this year by launching specially-designed limited edition PEZ sweet dispensers, customised with this year's 'Dinosesaur' Red Nose Day characters. A partial amount from every PEZ Red Nose Day dispenser sold is being donated to Comic Relief.
Austrian company PEZ makes around 60 million dispensers and 4.6 billion sweets a year. Since 1958, it has been putting character heads on the top of PEZ dispensers.
Access the auction here.