Philadelphia Eagles Offensive Linesman Todd Herremans recently held the first "Hoops for Help" event to benefit his newly founded Todd Herremans Foundation.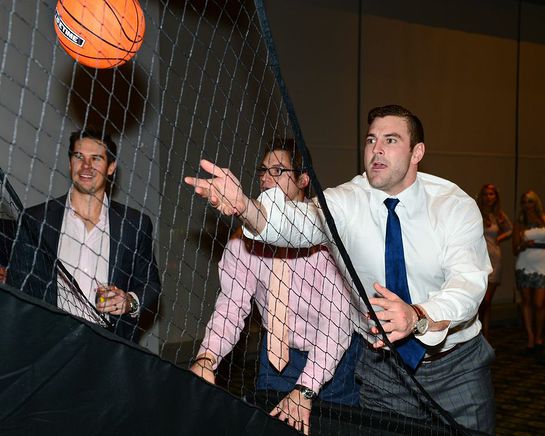 The foundation, which provides resources for charitable organizations was created by Herremans to effect positive change in the communities of Philadelphia and surrounding areas, as well as his home state of Michigan.
The Herremans Foundation has identified key causes and charities that it will fund through galas and events, community fund-raising and donations. Those charities that were selected as beneficiaries are: Habitat For Humanity, autism research, American Cancer Society, No Place for Hate, Cooper Hospital and the McGee Rehab.
The inaugural basketball themed event, sponsored in part by Cherry Hill Imports, featured NCAA games, live and silent auction, comedian The Fat Rat Bastard, live auction with Marisa Magnatta, magic by Eagles Jon Dorenbos, music by Tim Williams, and a pop-a-shot challenge with members of the Philadelphia Eagles. Head Coach Chip Kelly, teammates Jason Kelce, Lesean McCoy, Michael Vick, and Brent Celek attended, as well as former teammates AJ Feeley and Brian Westbrook. Others in attendance included Olympic Soccer player Heather Mitts Feeley, boxer Michael Grant, Boxing Champion Bernard Hopkins, NFL players Fred Lee Barnett, Mike Mamula and Albert Young.