As reported by LookToTheStars.org last week, to celebrate their fifth Limited Edition Label Art Series for Earth Day, Kiehl's Since 1851 partnered with Zachary Quinto and Alanis Morissette with a Limited Edition Ultra Facial Cream to benefit Recycle Across America. They celebrated this collaboration last week at the Kiehl's store in Santa Monica with their partners, as well as guests such as Gilles Marini, AnnaSophia Robb, Amy Smart, Anthony Mackie and Wilmer Valderrama.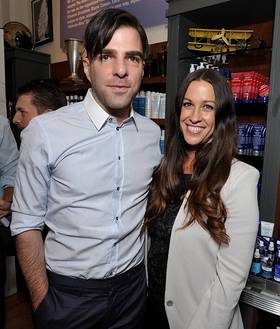 Kiehl's partners have each designed a Limited Edition label, depicting their vision of social responsibility for our 4.2 oz. Ultra Facial Cream, which is now available in Kiehl's stores and on Kiehls.com. 100% of the net proceeds of this series will benefit Recycle Across America (RAA), and through this program, Kiehl's will be donating $50,000 to the organization. RAA is not-for-profit organization dedicated to delivering society-wide solutions that eliminate public confusion, stimulate the environmental economy and expedite progress, and the funds raised from these labels will be used to create 65,000 standardized recycling labels, which will be donated to K-12 schools nationwide.
Earth Month for Kiehl's is also the time to reinforce Recycle and Be Rewarded! in-store recycling program. This ongoing program is available only in Kiehl's free-standing stores nationwide, and allows their customers to return their empty Kiehl's bottles, tubes and jars for recycling, in exchange for product. They have just passed the 1 Million mark, of the number of Kiehl's empties that they've recycled in their stores!