National veteran campaign Got Your 6 and leading national retailer Macy's have announced early fundraising results from Macy's "American Icons" campaign.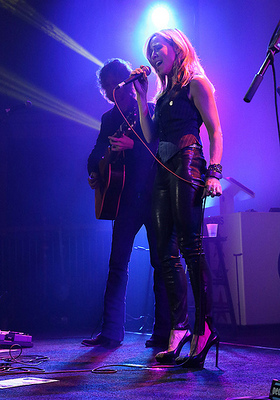 The campaign reached the $3 million goal in just a few weeks and on June 1st Macy's held an additional promotion called "Got Your 6 Saturday" that raised more than $415,000 in addition to the $3 million already raised, so that through "American Icons," Macy's has raised more than $3.4 million to support Got Your 6 and its veteran-focused nonprofit partners.
Launched in mid-May at an event that featured Sheryl Crow, Alison Sweeney and Marcus Samuelsson , "American Icons" featured a cause marketing effort that offered customers a special savings pass for $3, or the chance to purchase the pass and the iconic "Got Your 6" logo pin for $6 at Macy's stores across the country. Donations from the fundraising campaign will support the work Got Your 6 and their nonprofit partners have already begun, including securing pledges from more than 800 businesses to hire 200,000 veterans; housing more than 14,000 chronically homeless veterans; and garnering over 1.5 million hours of veteran service work.
Got Your 6 is an awareness initiative working to change the conversation around America's millions of returning veterans and military families by uniting more than two dozen expert veteran nonprofits with leading entertainment studios, networks and agencies in Hollywood. Got Your 6 focuses on six areas critical to successful reintegration: jobs, housing, education, family, health, and leadership. Utilizing resources contributed by the entertainment industry, Got Your 6 magnifies the reach and impact of each nonprofit organization, which in turn creates measurable, meaningful benefits for the hundreds of thousands of veterans and military families they serve nationwide.
"Got Your 6 is incredibly proud of our partnership with Macy's. The reach of the Macy's brand and their many stores has brought incredible awareness to the Got Your 6 campaign and our partners," said Chris Marvin, managing director of Got Your 6. "By mobilizing the generosity of the American public, Macy's has exceeded expectations and will now deliver crucial resources to some of the best veteran-focused nonprofits in the country."
As a result of the fundraising done by Macy's "American Icons" campaign, nonprofit partners of Got Your 6 will be able to put these significant dollars toward their respected commitment to veterans and military families. The Pat Tillman Foundation and Student Veterans of America will be able to help more college campuses adopt veteran friendly practices; Team Rubicon will have the funds to deploy more veterans and supplies for emergency disaster relief; and the 100,000 Homes campaign will be able to expand their vulnerability surveys to many more cities as they work to help house chronically homeless veterans. Specifically in the job pillar, Hiring our Heroes — a nationwide effort to help veterans and military spouses find meaningful employment — will be able to hold more job fairs, create more resources and provide additional opportunities to veterans and businesses across the nation as they work to complete their pledge to hire 500,000 veterans.
Though this partnership with Macy's, Got Your 6 is able to reach millions of Americans with its messaging platform on veterans and military families. Macy's "American Icons" campaign is supported by a marketing program that includes multichannel exposure through in-store visual, direct mail, newspaper, television, radio and social media. In support of Got Your 6, Macy's also created a 30 second national TV spot, which highlights the partnership with Got Your 6 and features Macy's employees who are also veterans. To further celebrate its veteran and military family population, Macy's created special ribbons and invited associates in-store to wear these ribbons proudly and be recognized as a military veteran or a military family member.
"Macy's is so proud of the successful partnership with Got Your 6, and our effort to raise millions of dollars in support of its mission to improve and advance veteran reintegration," said Martine Reardon, chief marketing officer for Macy's. "The enthusiastic response from our customers is testament that this is a cause the American public cares about deeply. We thank our customers for their participation which, when multiplied across our 800 stores, adds up to big impact at more than $3.4 million for Got Your 6 and their non-profit partners."
At its launch, Got Your 6 developed a set of measurable goals in six "pillars of reintegration" and registered them with the Clinton Global Initiative (CGI). Top veteran nonprofits specializing in jobs, housing, education, family, health and leadership signed on to these pledges, and they have had great success in the first year of the campaign. Organizations such as Student Veterans of America, Pat Tillman Foundation, 100,000 Homes, The Mission Continues and Hiring our Heroes have dramatically increased their reach and influence as a direct result of their involvement in Got Your 6.