Prince Harry attended the annual WellChild Awards Ceremony last week.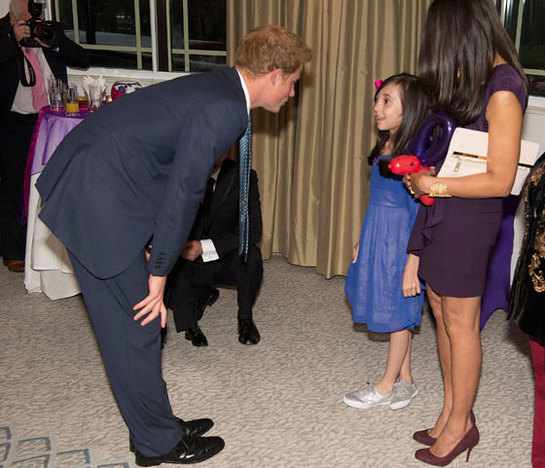 Prince George has already learned to smile, his proud uncle told children at the charity awards ceremony. Speaking at the WellChild event, Prince Harry told young award winners that he had visited the baby earlier in the day.
He said to nine-year-old Nikki Christou: "I've just literally seen him. It was the first time I've seen him smile."
The Prince is patron of the WellChild charity, which is dedicated to the needs of sick children and their families, and was guest of honour at its annual awards ceremony that celebrates the lives of the youngsters and those who care for them.
Nikki received the Most Inspirational Child for girls aged seven to 11 award at The Dorchester Hotel event in central London after raising £20,000 for research into her condition, an incurable malformation in her face which affects her nose, cheekbone and right eye.
She was keen to raise the subject of Prince George – as she shares his July 22 birthday, has a father called George and a brother called Alexander, the baby Prince's middle name.
Nikki, from Enfield, north London, said that Prince Harry said "wow, very, very weird" when told of the coincidence, and she described meeting him as "really nice".
Her mother Tanya added: "He said he'd just come from seeing his nephew and he was having a bath, but normally when he sees him, he's usually sleeping or crying.
"He said it was the first time he'd seen him smile. He seemed quite pleased." Madison Kirk, six, who received the award for Most Inspirational Child for a girl aged three to six, was also keen to ask about Prince George.
Her mother Mary, from Grantham, Lincolnshire, said: "He was talking about his nephew. He said it was lovely having a new nephew, he said it was fantastic."
Madison, who was diagnosed with large cell lymphoma last year, also asked Prince Harry what it was like being a Prince, to which he replied with a laugh: "Good and bad."
Prince Harry, wearing a navy blue suit, white shirt and pale blue patterned tie, got down on his knees to be at eye level with many of the seriously ill children.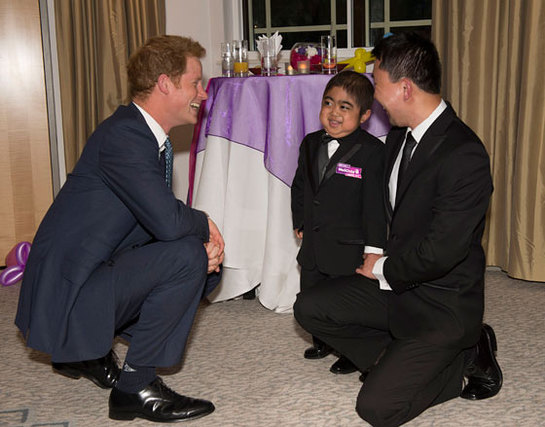 He seemed amused by six-year-old Jonathan He, who sung a song for him about digging his garden. Prince Harry gave the little boy from Milton Keynes, who has a rare genetically-inherited immunological condition and glaucoma, a round of applause for his performance.
Jonathan, who won the award for Most Inspirational Child for boys aged three-to-six year old, said The Prince praised him for the song and added: "He said it was brilliant."
In a short speech after presenting awards to Jonathan and Madison, Prince Harry described the award winners as "unbelievably brave" and said: "I'm hugely humbled to be patron of WellChild and I count myself incredibly lucky to be patron, as well as coming down here this evening.
"It's always so clear for everyone to see how brave and inspirational the children are, but very easy to forget what a huge effect it has on the parents, nurses and all the family."
Celebrities at the event included singer Rod Stewart and wife Penny Lancaster, presenter Konnie Huq, Apprentice star and businesswoman Karren Brady, comedian Tim Vine and singer Pixie Lott, with entertainment from Scouting for Girls.
Source: PrinceHenryOfWales.org