Ashley Argota has a special costar in her new campaign for peta2, PETA's youth division: her beloved rescued dog, Annie, who appears with a beaming Ashley in a new poster above the words "Adopt Your New Best Friend."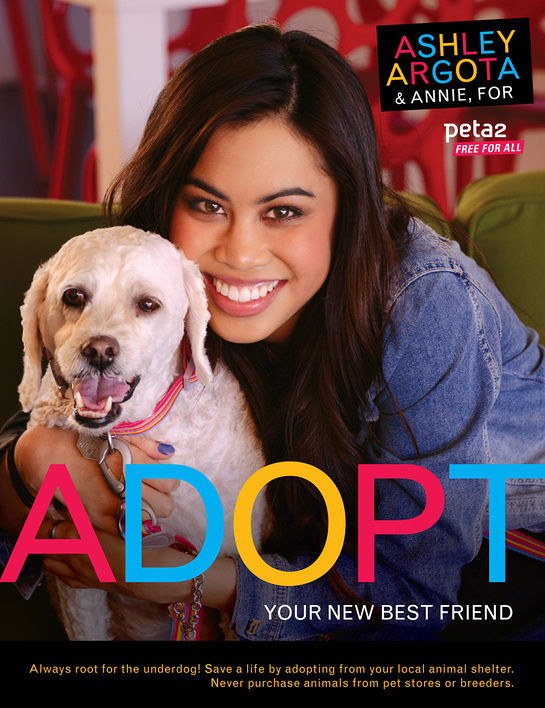 The True Jackson, VP and Bucket & Skinner's Epic Adventures star's ad goes on to stress the importance of always adopting dogs and cats from animal shelters and never buying them from pet stores or breeders.
"Annie became a member of my family when I was 13. I really, really wanted a dog," she says. "I told my mom — I was like, 'I don't want a party. I don't need to hang out with my friends. I just really want to adopt a dog.'"
Although every moment with Annie has been rewarding — as Ashley says, "No matter what, at the end of the day I know that I'm gonna go home and she's just gonna show me so much love"—Ashley reminds her young fans that taking care of a dog is a big responsibility. "You have to take them to the vet. You have to get them groomed, feed them, give them water — it's a lot of work. Just make sure that when you get a dog, that you're ready for the responsibility."
Not all homeless animals are as lucky as Annie was: Every year in the U.S., 6 to 8 million lost, abandoned, or unwanted dogs and cats enter animal shelters, and more than half of them must be euthanized because there are not enough good homes for them. Every dog or cat purchased from a pet store or breeder takes away a home from an adoptable animal—meaning that one more animal in a shelter will die.
Ashley joins a long list of celebrities — including Justin Bieber, Kellan Lutz, Sierra McCormick, Boo Boo Stewart, Daniella Monet, Ke$ha, Pink, and Cody Simpson — who have teamed up with peta2 to promote kindness to animals.
Source: PETA