Jennifer Aniston, Robin Williams, Sofia Vergara, Shaun White, Michael Strahan and Luis Fonsi join Marlo Thomas in leading a star-studded roster of celebrities lending their time and talents in support of the 10th annual St. Jude Thanks and Giving campaign.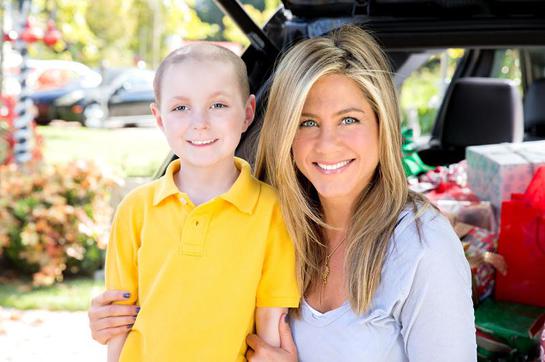 St. Jude Thanks and Giving is an unprecedented union of celebrities, media and 60 of the nation's leading brands and companies that asks consumers to donate while they shop this holiday season and join St. Jude in finding cures and saving children. National television spots and movie theatre trailers featuring the stars alongside St. Jude patients will debut Thanksgiving week and continue running through the end of the year.
This year, a new slate of exclusive online videos starring Darius Rucker, Leslie Grace, Raúl Gonzalez, Pamela Silva Conde and Daisy Fuentes have been created for the campaign. Fans from around the world will be able to view these spots from their tablets and smart phone devices across various social media and popular websites.
"Every year I get the opportunity to meet extraordinary children from St. Jude and be a part of the St. Jude Thanks and Giving campaign," said Jennifer Aniston. "The research at St. Jude is shared across the country and helps so many families. This is my 8th year working with St. Jude and it is so rewarding to be a part of the team that helps save children's lives."
In addition to the national television and online spots, St. Jude celebrity friends Sabrina Soto, Jennette McCurdy and Olivia Holt have created and designed special gifts that will be for sale during the holiday season on giftshop.stjude.org with 100 percent of profits going back to the hospital.
"It's an honor to be a part of the St. Jude Children's Research Hospital family," said Robin Williams. "This year I appeared with Darcy in one of the St. Jude Thanks and Giving television spots. Darcy and children like her from communities across America benefit from the lifesaving research and treatment being done every day at St. Jude. It means a lot to me to be involved."
"It's a privilege to be a part of the St. Jude Children's Research Hospital Thanks and Giving campaign," added Sofia Vergara. "As a mother and a cancer survivor, I can't think of anything more important than helping to support the lifesaving work being done every day at St. Jude which is helping saves the lives of children around the world. I hope everyone will join me and support St. Jude in the fight against childhood cancer."
Created in 2004 by Marlo, Terre and Tony Thomas – children of St. Jude founder Danny Thomas – the St. Jude Thanks and Giving campaign began as a holiday-focused fundraising effort and has grown into an annual tradition that has raised more than $387 million thanks to tremendous public support.
"My father, Danny Thomas, founded St. Jude with big dreams and it was in that light that we created the St. Jude Thanks and Giving campaign ten years ago," said Marlo Thomas. "Since the beginning, we have been blessed to have the support from our wonderful family of celebrities. It warms my heart that year after year, they lend their time, talent and generous spirit to help St. Jude raise the funds that allow us to continue our mission of finding cures and saving children's lives."
The national television spots will air on network and cable television channels, as well as online, in both English and Spanish. In addition, celebrities will be featured in a 60-second movie trailer that will appear in theatres nationwide – including Regal Entertainment Group, AMC Theatres, Cinemark, Carmike Cinemas and many others – as well as on American Airlines and Delta Air Lines flights. All of the spots, as well as exclusive behind-the-scenes footage, will debut at stjude.org in late November.
The campaign receives additional support from celebrity friends Cedric the Entertainer, Lily Aldridge, Mark Steines, Mike Wolfe, Peyton List, Prince Royce, Maná, Banda El Recodo, Carlos Vives, Chino y Nacho, Danna Garcia, Luis Enrique, Natalia Jimenez, Candela Ferroin and Toby Love the form of radio spots, social media support, participation in the St. Jude Give thanks. Walk. and more.
Throughout the months of November and December, consumers shopping where the St. Jude logo is displayed can make a donation at checkout or purchase specialty items that benefit St. Jude. Those wanting to support the lifesaving mission of St. Jude are also invited to donate online at stjude.org or by phone at 800-4STJUDE.