More than 1,000 supporters showed their commitment to the Multiple Myeloma Research Foundation (MMRF) Saturday by attending what was Fairfield County's largest charity benefit of the year.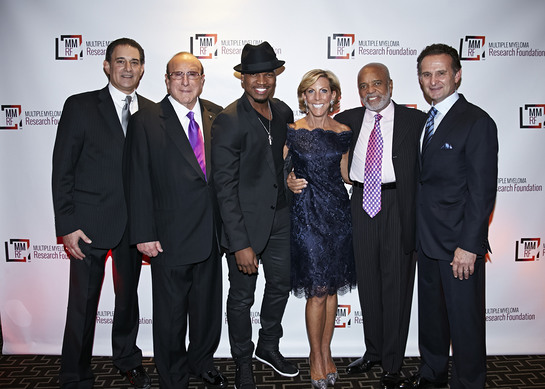 This year, the organization raised $2 million at its 17th annual Fall Gala.
A who's who of the region's most generous and active philanthropists filled the Hyatt Regency in Greenwich, where they rocked to Motown music, the sound that changed America, and celebrated this vital cause to support research and treatments for patients suffering from multiple myeloma, an incurable blood cancer. Well-known attendees included Clive J. Davis, Chief Creative Officer for Sony Music Enterprises; Brian Williams, NBC news anchor; Lucy Danziger, SELF Magazine Editor-in-Chief; Monte Lipman, Co-President and CEO of Republic Records; Avery Lipman, Co-President and COO of Republic Records; Steve Bartels, President of IDJ Records; Rick Krim, Executive Vice President of VH1; Patrick Moxey, President of Ultra Records; and John Amato, President of Billboard Publications.
A highlight of the gala included Motown founder and recording legend Berry Gordy being honored with the coveted MMRF Spirit of Hope Award, awarded in recognition of extraordinary contributions for the greater good. The star studded event wowed the crowd with an unforgettable concert that included performances by Grammy Award-winning Motown recording artist Ne-Yo, along with Motown performers Chrisette Michele and Kevin Ross, and Broadway star Charl Brown, who currently appears in Motown: The Musical.
"Over the years I've witnessed monumental changes occurring in our nation and around the world revolutionizing the way we think and feel about each other," said Mr. Gordy. "Now we have the opportunity to see a whole new revolution in the area of cancer research. The MMRF is leading that charge with its unique approach to collaborative research and patient empowerment."
Past recipients of the coveted MMRF Spirit of Hope Award include Clive J. Davis, Diana Krall and Stevie Wonder. Along with honoring Mr. Gordy, the MMRF bestowed its Courage and Commitment Award on TouchTunes President and CEO, Charles Goldstuck, a renowned leader in the music industry, as well as a digital marketing and entertainment entrepreneur.
"Seeing the power of amazing performers — like NE-YO and Charl Brown — captivating a room of this size is a perfect metaphor for the MMRF, where the work of just a few affects so many," said Mr. Goldstuck. "The MMRF has transcended its small size to dramatically transform the way cancer research takes place today, harnessing technology to create a unique and collaborative model that's putting speed and efficiency into finding cures for uncommon cancers like myeloma."
"It's awe inspiring to see so many outstanding people come together to support our mission," said Kathy Giusti, MMRF Founder and CEO and a multiple myeloma patient. "The MMRF has always recognized the power of the individual to create change, and that's how we're creating a revolution in the treatment of cancer — one person at a time."
The MMRF is a leading cancer research foundation with a four star Charity Navigator rating, the highest rating possible for exceptional fiscal responsibility, that is developing new models and innovative means for accelerating the next generation of myeloma treatments as quickly as possible. The organization is currently spearheading the world's first and only open access data platform in multiple myeloma, which will empower patients with information to make decisions about their individual medical choices and enable researchers and others to make faster treatment discoveries for this incurable blood cancer.
Source: BusinessWire.com