Justin Bieber has performed in the Philippines for victims of Typhoon Haiyan.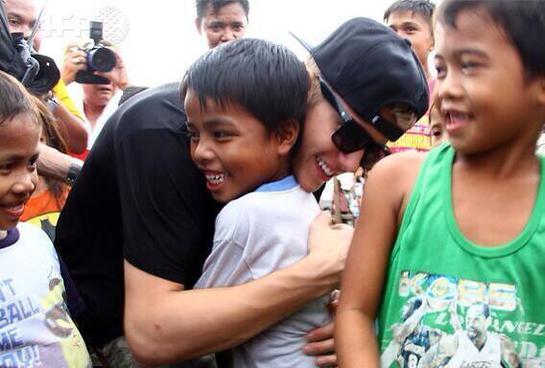 The singer has posted photos and videos of a surprise show he put on for victims in the hard hit region of Leyte.
Bieber referred to his performance as being "the most important show of the tour," and went on to say "You've changed my life… thank you."
Bieber also saw humanitarian programs run by leading international
humanitarian agency Action Against Hunger. He visited the agency's water and sanitation programs, engaged with local community members, played basketball with Action Against Hunger employees and beneficiaries.
Bieber is proud to use his stature and visibility to affect positive change. "When I saw what happened in the Philippines, I was shocked—the destruction was devastating and I wanted to do whatever I could to help," he said. "I always can count on my fans, so I started planning a way for us to make a big impact to help our friends in the Philippines together."
"The work that Action Against Hunger, UNICEF, and the Philam Foundation are involved with in the Philippines is incredible," he continued, "and I'm really excited to be working alongside them, and I know my fans will be too when they see what amazing things we will be doing together to help all the families that have been so badly affected by the recent situation."
Bieber has already been involved in fundraising for victims of the storm, which is thought to have killed over 5000 people. An estimated 13.2 million people have been affected by Super Typhoon Haiyan, and 3.5 million are now displaced from their homes. By donating to the cause, Justin is offering fans the chance to hang out in the studio with him. You can enter the contest here.