Last week, the world's largest youth empowerment event of its kind, We Day, officially went international with its London, UK debut at Wembley Arena.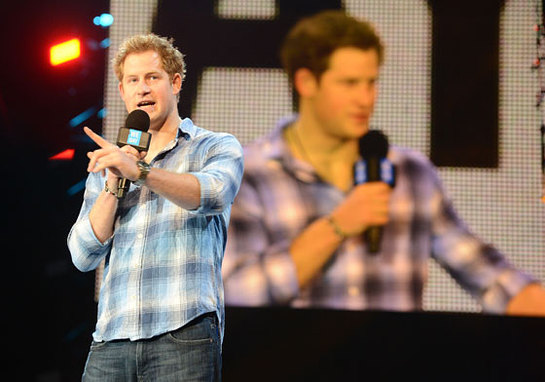 World-renowned speakers, international activists and chart-topping musical sensations including Prince Harry, Malala Yousafzai, Al Gore, Craig and Marc Kielburger, Jennifer Hudson, Clive Owen, "Pretty Little Liars'" Shay Mitchell, Ellie Goulding, "Glee's" Jacob Artist, Sir Richard Branson, Dizzee Rascal and We Day co-chairs Holly Branson and Lord Rumi Verjee amongst others, came together to educate, inspire and empower 12,000 student leaders to take action on local and global causes that are important to them. Today's students will join the 'WE' movement of 2.3 million engaged, young global citizens from across North America and the UK who are committed to changing the world through social action.
An initiative of international charity and educational partner, Free The Children, We Day is taking the philanthropic world by storm with events in the US (next stops are Seattle March 21 and California March 26), Canada and the UK, and is one of the world's largest registered charities on Facebook with 3.8 million followers. This year alone, more than 180,000 young people will come together in stadium gatherings to take part in this unprecedented educational initiative.
Greeted by a piercing drum beat of applause and cheers, 16-year-old Malala Yousafzai spoke to the audience about the extreme struggles she once faced just to be able to go to school.
In her speech, Malala said: "Every day that I meet young people like you who are committed to changing the world – I am the one who is inspired." A passionate advocate for girls' rights to go to school, which she is taking action on through her foundation, the Malala Fund, she then went on and described how: "We are making tremendous gains, but we have much work yet to be done – and we need more help to accomplish our task. We need more friends, and we need more partners. That is the reason I am here today – to forge a partnership."
Inviting Free The Children's co-founders Craig and Marc Kielburger onstage, as well as the CEO and co-founder of the Malala Fund, Shiza Shahid, the three parties announced a new joint partnership aimed to inspire young people throughout the UK and around the world to stand up for girls' right to access education. The full details on the partnership announcement can be found here.
Hosted by MTV's Laura Whitmore, Bluey Robinson and Lilah Parsons the day was full of powerful educational speeches, inspirational moments and show-stopping performances. Some of these included:
• Prince Harry praised the crowd of 12,000 for committing to a cause they cared about and said he hoped they would inspire and encourage their friends.
"Every single one of you has done something amazing to be here today," said Prince Harry. "It may not feel like it to you, but I can assure you that collectively, your actions can and will, shape the course of our future. After all, we all share this planet, so we must help and inspire others to do the same.
"The world around us is changing fast. On one hand, it is a much more connected place. The internet is now part of our everyday lives, and social media has changed the way we communicate. What this means is that our generation, although I am nearly 30, has the greatest opportunity of any in our history to effect change on a global scale."
• Recognized by the young audience as Harry Potter's Luna Lovegood, actress Evanna Lynch shared her incredible and inspiring story of how she struggled with her own self-esteem issues. She moved the audience of 12,000 with her powerful words about how she found strength from J.K. Rowling's stories – and Luna's character especially. There was total silence as she said: "We've been told a million times that we need to love ourselves. I'm urging you all today to take that a step further, by not only accepting your differences and the things that make you odd, but to embrace and celebrate them, because it is that very essence that is the propulsive, electric energy that fuels your creativity and can be your single greatest tool in your mission for social change."
• Long-time Free The Children supporter, Jennifer Hudson, is no stranger to the We Day stage, performing at past We Day events in North America. As a strong advocate for children, she co-founded with her sister Julia, the Julian D. King Foundation, which was established to provide stability, support and positive experiences for children of all backgrounds to help enable them to grow to be productive, confident and happy adults. Today, she supports the 12,000 students in attendance and has them on their feet performing I Can't Describe and Bleed for Love.
• Brit award winning songstress, Ellie Goulding, closed the show with her hit single Anything Could Happen. The audience was ecstatic as Ellie was joined on stage for her first performance with the London Youth Choir, whose last gig included a performance on stage alongside The Rolling Stones in London.
Students cannot buy a ticket to the event; they have to earn it through making a commitment to undertake at least one local and one global charitable act of their choice as part of the year-long We Act program. By registering for We Act, students and teachers receive free educational resources, student-led campaign ideas and materials to support them on their mission to make a difference. Together We Day and We Act provide a plan to raise a generation of active global citizens.
Craig Kielburger, who co-founded Free The Children with his brother Marc in 1995 when he was 12 years old, said: "Today was a momentous day with We Day officially going international. It celebrated the incredible actions of all of the young people in the UK that were in the audience, and provided them with a platform to learn even more about pressing local and global issues, inspiring them to take action and celebrate the meaningful contribution they're making to better our world.
"From bake sales that support clean water projects in Kenya to collecting canned goods for local food banks, the actions of the students here today are extraordinary, and these good deeds do add up. Since 2007, $37 million has been raised for more than 1,000 local and global causes and 9.6 million hours volunteered by the young people involved in We Act. These numbers demonstrate how young people can affect positive social change and can make a difference."
In the UK, Free The Children has worked with more than 700 schools and 150,000 young people as part of We Act. Schools from across the UK have worked hard to earn their way to We Day today. Sunnyhill Primary in Streatham, London, celebrated Valentine's Day with a talent show and non-uniform day, asking pupils to bring a tin of food to donate to their local food bank, and Crosskeys Campus Coleg Gwent in Caerphilly, Wales, held a raffle to raise money for a local women's refuge. Supporting global issues, students at Humphrey Perkins School in Loughborough planned a bake sale and roller disco to raise money for building schools in rural China. As they leave the arena today, students from those schools, together with 12,000 others are heading back to their communities ready to carry on their incredible work and earn their tickets to We Day UK 2015.
Mayor of London Boris Johnson commented on We Day's inaugural debut in London and some of the schools in attendance that are also a part of the Team London Young Ambassador program: "We are delighted to be working with Free The Children, inspiring and recruiting young Londoners to get involved in our Team London Young Ambassadors programme. Congratulations to all the youngsters who have earned their way to the first ever We Day event – have a great day and keep up the hard work!"
We Day and the We Act program are free of charge to the thousands of students and teachers in attendance at the event and across the country, thanks to the generous support of sponsors led in the UK by Virgin Atlantic and Barclays.