Internationally acclaimed supermodel and photographer Helena Christensen has customized a single edition Shamballa Jewels bracelet for an auction benefiting Operation Smile.
Operation Smile provides free surgeries to repair cleft lip, cleft palate and other facial deformities for over 200,000 children around the globe, allowing them healthy lives, and helping them smile.
Helena Christensen said, "Supporting any organization that changes a child's life for the better is in my opinion worth anyone's commitment, effort and time. I think it's important for companies to set an example and raise awareness about any cause, let alone one that focuses on children's happiness, literally. There is nothing more beautiful than a child smiling."
The bracelet was exhibited and introduced for auction at the Vs. Magazine "Better" exhibition, a collaboration with auctioneers Gavel & Grand, on March 11th, 2014 at Dillon Gallery, New York City. Selected artworks from the magazine's current issue – for which Helena Christensen is the guest editor – are also going under the hammer as part of the "Better" auction, benefiting Christy Turlington Burns's Every Mother Counts, Chernobyl Children International and David Lynch Foundation.
The Auction started March 11, 2014, and ends March 21st, 2014, with bids starting at $12,000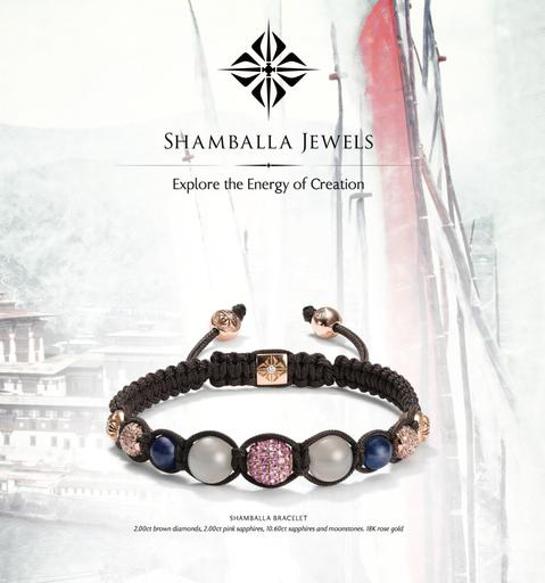 Christensen's bracelet features Shamballa Jewels signature pavé of pink sapphires in the center, grey moonstones, blue sapphires, brown diamonds and Star of Shamballa beads in 18K rose gold. The bracelet has been set and braided by hand in Copenhagen, Denmark.
"At Shamballa Jewels we make spiritually inspired fine jewelry with the aim to encourage people to find their inner Shamballa- a mythical kingdom of peaceful and compassionate people. We believe that all humans emanate heat and light, and we can shine just like the stars in the universe. We believe that a beautiful thought or vision creates a genuine smile that shines like a star, which is why we support Operation Smile. Helena Christensen has a history of amazing philanthropic work, and we are honored that she accepted our request to customize the bracelet, " said Mads Kornerup, Creative Director of Shamballa Jewels.