On Thursday, May 15, an all-star line-up of musicians will unite for the 1st annual "Acoustic-4-A-Cure" concert benefiting the Pediatric Cancer Program at UCSF Benioff Children's Hospital.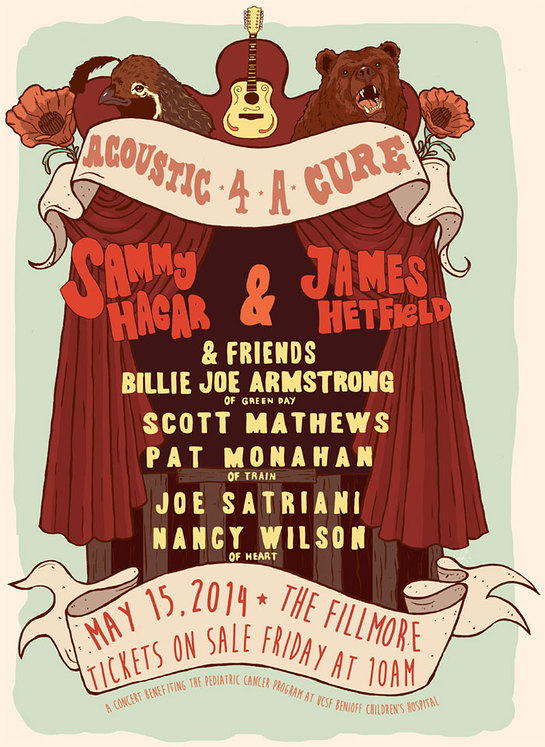 Among the stars set to perform are Billie Joe Armstrong (Green Day), Sammy Hagar, James Hetfield (Metallica), Pat Monahan (Train), Joe Satriani, Nancy Wilson (Heart) and many more.
"Acoustic-4-A-Cure" was created by Rock & Roll Hall of Fame musician and Bay Area resident Sammy Hagar, an on-going supporter of UCSF Benioff Children's Hospital through his Hagar Family Foundation.
"I've seen first hand the great work they're doing and how vital community support is," Hagar said. "I ran the idea of a benefit concert by James (Hetfield) and we quickly had an amazing lineup of artists on board, then Live Nation stepped up with The Fillmore and now we've got an epic event – the first of many hopefully – so we can help keep their research and programs funded and on the path to a cure."
"This is sure to be an unforgettable evening, and we're so very grateful to the Hagar Family Foundation for their incredible support of UCSF Benioff Children's Hospital," said Jean Nakamura, MD, Associate Professor Radiation Oncologist at UCSF Benioff Children's Hospital. "UCSF Benioff Children's Hospital is recognized as one of the leading children's hospitals in the world, largely due to the ongoing support of our community."
The event takes place on May 15 at The Fillmore. More info can be found here. Tickets go on sale on March 21.