UNICEF Goodwill Ambassador Orlando Bloom wrapped up a visit last week to Jordan where he met with children from Syria and their families whose lives have been devastated by the conflict – now in its fourth year.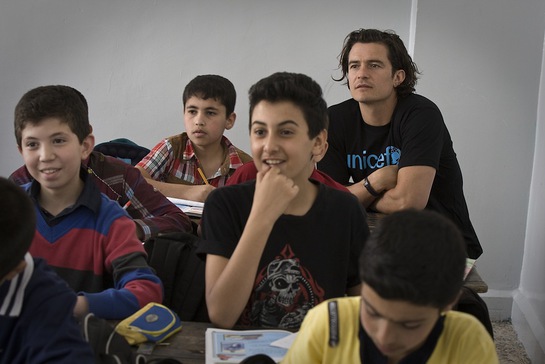 "These children have witnessed more extreme violence than any child should," said Bloom after a visit to Za'atari refugee camp near the Syrian border on Thursday. "What is most terrifying is that they become a lost generation. Without urgently needed education, protection and psychological support their pain and bitterness will turn into aggression years from now."


The British actor arrived in Jordan on Tuesday, 8 April. The next day he visited a Syrian family in Irbid who fled violence in Aleppo two years ago. Like so many other families who have come to Jordan or neighboring countries, what little savings they had are gone, and life is becoming increasingly difficult.
"These are families that had lives most of us can relate to. Parents had jobs. Kids went to school and got to play. This war obliterated their lives and uprooted them from their homes and now they are living in precarious situations with little or no hope for their futures," said Bloom. "They don't want to live like refugees, with no dignity or respect. They just want their lives back and a future for their children."
In Za'atari, Bloom visited a UNICEF-supported school that lends the children a sense of normalcy to lives that are far from normal. With a population of over 100,000 women, children and men, Za'atari is one of the largest refugee camps in the world. Families live in tents and tiny caravans in a harsh desert area with freezing temperatures in the winter and extreme heat in the summer.
UNICEF and partners are providing life-saving support through vaccinations, medicines, education, clean water and safe areas for children to play. But with needs far out-pacing resources, UNICEF is urgently seeking additional funding to address what has become the world's largest humanitarian crisis.
Since the conflict in Syria erupted three years ago, a total of some 5.6 million children have been severely affected. UNICEF has warned that the future for these children inside Syria and living as refugees in neighbouring countries hangs in the balance as violence, the collapse of health and education services, severe psychological distress and the worsening economic impact on families combine to devastate a generation.
In host countries throughout the region, 1.3 million Syrian children are now living as refugees. Host communities are often overwhelmed and there is limited access to clean water, nutrition or learning opportunities.
UNICEF has been calling for an end to the cycle of violence in Syria along with further steps to keep children impacted by the conflict safe and to provide them with inner healing through psychological care along with better access to education.
Bloom, well known for roles in blockbuster films such as The Lord of the Rings and Pirates of the Caribbean, became a UNICEF Goodwill Ambassador in October 2009. Prior to his appointment, Bloom visited UNICEF supported schools in Nepal to help advocate on behalf of the rights of children, including access to quality education and clean water. In 2012, the actor met with children and youth in Cape Town, South Africa, to learn more about their lives and the importance of having safe areas for children to play and participate in recreational activities after school.