In celebration of the upcoming home entertainment release of Disney's "Muppets Most Wanted" on August 12, Yamaha Entertainment Group is auctioning off an incredible Yamaha Disklavier grand piano that has been signed by 18 cast members including Tina Fey, Ricky Gervais, and Josh Groban and is valued at almost $74,000.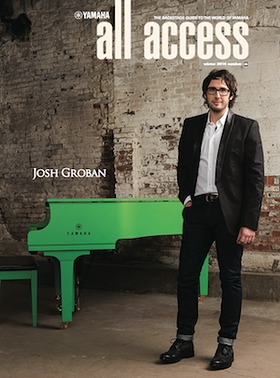 Bidding begins on Monday, July 28 at 9:00 EST and is open through Tuesday, Sept. 2, 2014 at 2 p.m. EST through leading charity site Charitybuzz.com. Proceeds will benefit VH1 Save The Music Foundation, devoted to restoring instrumental music education programs in America's public schools, and raising awareness about the importance of music as part of each child's complete education.
Beginning Monday, July 28, consumers can bid on the chance to own the Yamaha Disklavier E3 piano, which combines technology with tradition. A modern day "player piano," it can accurately record piano performances and play back piano performances with all of the expression and nuance of the original performance. As an added bonus, this Kermit-inspired bright green piano comes with the seven songs from the "Muppets Most Wanted" soundtrack.
"We are always thrilled to work with Disney and the Muppets, and the fact that we can come together and donate such a magnificent instrument for music education is a true gift," says Yamaha Entertainment Group Founder and Vice President Chris Gero. "We are incredibly grateful to everyone who has contributed their time and talents to make this a reality. The winning bid of this grand piano supports the gift of music, an indispensible part of a child's education."
"This is a very special piano both in color and sound," says Josh Groban. "The only downside to owning it is my seething life long jealousy associated with that responsibility. It's not easy being green (with envy)."
The piano features signatures from a diverse group of the cast and crew, including: Co Stars Tina Fey, Ricky Gervais and Ty Burrell; Cameos Josh Groban, Danny Trejo, Ray Liotta, and Chloe Moretz; Director James Bobin; Musicians Bret McKenzie, Christophe Beck, and Chris Caswell; as well as Muppet Performers Steve Whitmire, Dave Goelz, Eric Jacobson, Bill Barretta, Matt Vogel, David Rudman and Peter Linz.