The Muscular Dystrophy Association's 2014 National Goodwill Ambassador Reagan Imhoff of New Berlin, Wis., is set to open the 49th MDA Show of Strength Telethon alongside Fall Out Boy bassist Pete Wentz this Labor Day weekend, Sunday, Aug. 31, 9/8c, on ABC television stations across the country.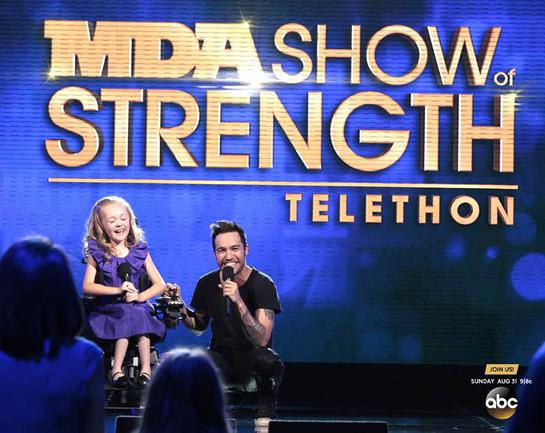 Wentz will join Reagan, 9, on the telethon stage after a Fall Out Boy performance of their new single "Young Volcanoes," at the top of the 2014 telethon.
"Reagan is a total sweetheart whose positive attitude immediately captures the attention of everyone she meets," Wentz said. "Being able to give back to an organization that's making a difference like MDA has taken on a much deeper meaning for me since having kids. All the members of Fall Out Boy are honored to be part of this telethon as a band to help save and improve lives for all MDA families."
Wentz and Reagan will chat about the many adventures she's had during her first year as MDA's National Goodwill Ambassador, while viewing never before seen clips from a special meet and greet on the set of ABC's show "Rising Star," where Reagan had the opportunity to work her charm on the show's co-mentors Brad Paisley, Ke$ha, Ludacris and Josh Groban.
During the telethon broadcast, Reagan also will introduce Grammy winner LeAnn Rimes with help from ABC's "Mistresses" star Alyssa Milano. The charismatic third-grader also served as an MDA "blue" carpet correspondent, nabbing exclusive interviews with some of the show's biggest talent backstage during the show taping at the Hollywood Palladium. (Check out her interviews with Bret Michaels and R5.)
Reagan is no stranger to the spotlight. This is her third consecutive telethon appearance. In 2012, Reagan lived out her dream when she starred in a moving dance performance, done from her power wheelchair, on the telethon. Last year, pop icon Paula Abdul surprised Reagan with her first pair of ballet pointe shoes after a performance of "I Hope You Dance" by country star Lee Ann Womack — a special highlight of the 2013 telethon.
Now, as part of her role as MDA's National Goodwill Ambassador, Reagan travels throughout the country (along with parents, Jenny and Joe) speaking to groups about MDA's mission to save and improve the lives of families like hers affected by muscle disease. Reagan has spinal muscular atrophy (SMA), a genetic disease affecting the part of the nervous system that controls voluntary muscle movement.
Find out more about the MDA Show Of Strength Telethon here.