By Rachel Zeskind on
After preparing herself for the biggest night of the year, Look To The Stars Celebrity Ambassador Rachel Zeskind found her way to the red carpet of the 60th Primetime Emmy Awards earlier this week, where she caught up with some of the stars: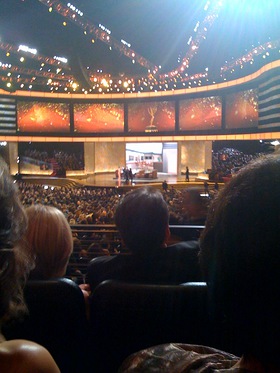 Arrival was tricky – after an apparent security breach, additional measures had been put into place to secure the safety of all in attendance, thus making parking an hour long waiting process that was filled with numerous police and bomb squad check points.
Once there – and very late a mad dash to connect with my publicist was made – I headed to the red carpet as fast as six-inch high-heeled shoes would allow. Then came the insanity of the red carpet for an event of this magnitude, hundreds of stars in front of a thousand members of the press. Video cameras and crews swarmed everywhere and camera's flashed from every angle down the entire red carpet walk.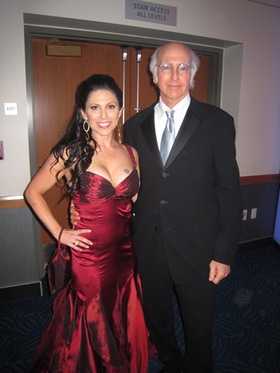 Honestly, it's intimidating and weird. I stand there, suck in my tummy and try not to feel less pretty, less famous, less tall, less thin…yadayadayada… and remember that on this day, I am the very best reflection of me that I can be. I accept this, try to say something loving to myself and smile posing for the photo's. My insides are vibrating and I hope I don't look as freaked out as I feel inside. No matter how many times one walks down a red carpet, the experience is intimidating and surreal.
Once inside I took my seat and tried to decompress as the show began. From inside the Nokia Theater a sea of glamour spread out from the edges of the theater down to the stage. The room was abuzz. This is one of the few times every year when all the actors and actresses and producers and writers and directors all get a chance to be in the same place at the same time, catch up, meet the ones they don't know, and acknowledge and appreciate their peers.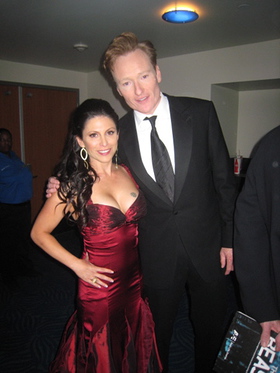 One of the most powerful acceptance speeches was by Glenn Close. Her statements about how Hollywood has finally begun to recognize that 'mature' women can be sexy and powerful and play the leads in successful TV shows was met by an eruption of applause. She is one of those ground-breaking, pace-setting leaders for all female actresses. It is women like her that shake it up and teach people that women are not disposable after thirty – in fact, they just get better, hotter, and smarter!
During the commercial breaks and after parties I was able to catch up with some celebrities and talk to them about their favorite charities, organizations and ask them what issues were on their hearts and minds currently.
Larry David of 'Curb Your Enthusiasm' said voter fraud was a huge concern for him right now as we move closer and closer to the election date for our next US President.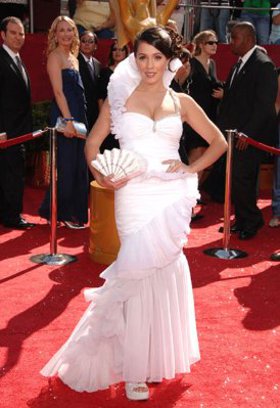 Conan O'Brien of 'Late Night With Conan O'Brien' said his most recent favorite charity is the Fresh Air Fund NYC.
Christina DeRosa, the up and coming star who will be seen in the new FOX series 'Dollhouse,' said that she was an Agape member and fully supported their outreach programs.
At the TV Guide after party I caught up with Emmy award winning composer John Wineglass – whose favorite charity is CASA – and Jon Voight, who is a passionate supporter of the troops stationed overseas.
The point to this all is no matter who you are, what you do for a living or what you look like, you are a human being who sucks in air the same way all the stars do. Your brain shares similar positive and negative thoughts as anyone else's and certain issues move your hearts too. As a human being you were given a very specific unique set of gifts, passions and abilities to be appreciated by yourself and others as well as to be used to do your part in changing the world we all share.
(photos copyright Rachel Zeskind)