On Saturday, November 8, Ray Romano hosted the International Myeloma Foundation 8th Annual Comedy Celebration at The Wilshire Ebell Theatre & Club in Los Angeles.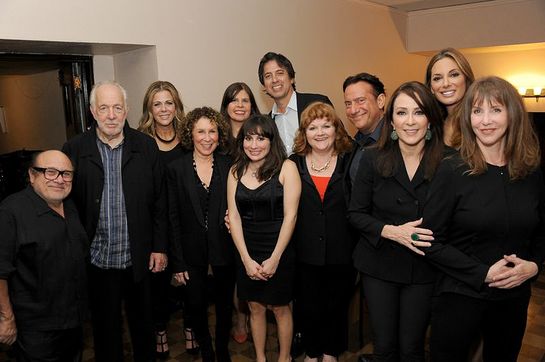 For the first time, the annual event featured a one-night only presentation of Celebrity Autobiography, a smash comedy hit featuring outrageous celebrity memoirs acted out hilariously on stage by an all-star cast.
The cast included Danny DeVito (It's Always Sunny in Philadelphia), Lucy DeVito (Deadbeat), Patricia Heaton (The Middle, Everybody Loves Raymond), Howard Hesseman (Head of the Class), Alex Meneses (Everybody Loves Raymond), Laraine Newman (The Boxtrolls, Saturday Night Live), Lesley Nicol(Downton Abbey), Eugene Pack (Celebrity Autobiography Creator), Rhea Perlman (The Mindy Project), Dayle Reyfel (Celebrity Autobiography Creator), Doris Roberts (Everybody Loves Raymond), and Rita Wilson (The Good Wife).
Among those in attendance included Event Chair Loraine Boyle, Tony Denison (Major Crimes), Dr. Brian Durie (IMF Chairman of the Board), Susie Novis (IMF President), and more.
Proceeds from the IMF 8th Annual Comedy Celebration benefited the Peter Boyle Research Fund and supported the Black Swan Research Initiative (BSRI), a groundbreaking and internationally collaborative effort to find pathway to a cure for myeloma. Renowned actor Peter Boyle died in late 2006 after a four-year battle with myeloma, an incurable cancer of the bone marrow and one of the fastest growing blood cancers in the world. Through laughter, the event honors Boyle and raises money for research to find a cure.