In support of a national ban on cosmetics animal testing in Canada, film and TV star Laura Vandervoort is backing #BeCrueltyFree Canada with the release of an exclusive photo in which she and her dog Frankie say "no" to cosmetics cruelty.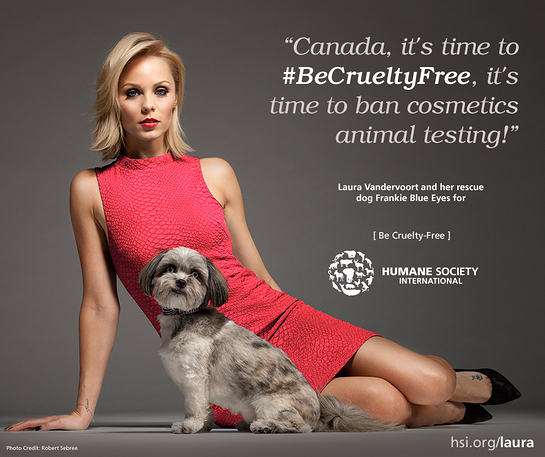 On screen, Vandervoort returns this month to play werewolf Elena Michaels in hit TV series Bitten, but off screen she's a compassionate animal advocate who wants cosmetics cruelty to end. #BeCrueltyFree Canada is part of the global #BeCrueltyFree campaign, and a partnership between Humane Society International and Animal Alliance of Canada.
Though banned in the European Union, Norway, Israel and India, animal testing for cosmetics still happens here – even though it's not required by law. Rabbits, mice, rats and guinea pigs endure chemicals being forced down their throats, dripped into their eyes or smeared onto their skin – all without any pain relief.
Asked about her support, Vandervoort said: "I think in our hearts, all of us know instinctively that causing animals pain and even death simply to test a new vanity product like a lipstick or anti-wrinkle cream is just wrong. I'm proud to support the #BeCrueltyFree Canada campaign for a kinder world without cosmetics cruelty. I want Canada to join the likes of the European Union, Israel and India by banning animal testing for cosmetics. A rabbit's life is worth more than mascara. Let's #BeCrueltyFree Canada!"
Aviva Vetter, campaigner for #BeCrueltyFree Canada said: "It's an honor to welcome Laura Vandervoort to the #BeCrueltyFree Canada campaign. Laura, beloved not only in Canada but around the world, has chosen to stand up for animals, sending a clear message that the ugliness of animal testing has no place in the beauty industry."
Vandervoort joins actresses Tricia Helfer (Ascension, Battlestar Galactica), Kristin Bauer (True Blood), Emmanuelle Vaugier (Lost Girl), and TV's Phoebe Dykstra in support of #BeCrueltyFree Canada, while globally stars like Sir Paul McCartney, Leona Lewis and Owain Yeoman also count themselves as proud #BeCrueltyFree advocates.
More than 80,000 people say "no" to cruel cosmetics in Canada – add your name by signing the #BeCrueltyFree Canada petition at BeCrueltyFree.ca.
Source: Humane Society International