By Renita Manley-Garrett on
As always, George Clooney is keeping busy supporting philanthropic efforts.
Last week, Clooney joined some of his celeb friends including Tom Hanks, David Letterman, Danny DeVito and Meryl Streep at the benefit " An Evening of Serious Fun: Celebrating the Legacy of Paul Newman" where he spoke affectionately about Newman's humane accomplishments and humanitarian influence. And on Tuesday evening, Clooney was joined by his wife, activist, and human rights attorney Amal Clooney at the 100 Lives Initiative Launch in New York.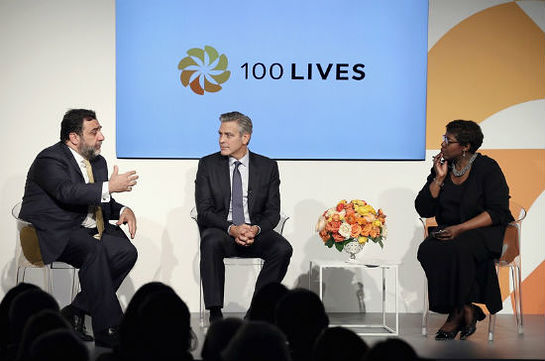 Academy Award Winner and activist George Clooney joined Ruben Vardanyan and moderator Gwen Ifill on stage to discuss the launch of the 100 Lives Initiatives, a project that will celebrate those who saved Armenians during the Armenian Genocide, and will support individuals and organizations that keep the legacy of gratitude alive (100lives.com).
When Ifill asked Clooney about the usage of celebrities to get people to pay attention to far away atrocities such as genocide, Clooney replied, "Unfortunately, when it bleeds it leads. The truth of the matter is, we keep going through this. We do it time and time again. After the Holocaust, which was the one that everyone talks about, we said never again. Then we had Cambodia, Rwanda, Bosnia, Darfur…The hard part is to sustain it. The Education part is a brilliant part of it; it has to become a part of our education."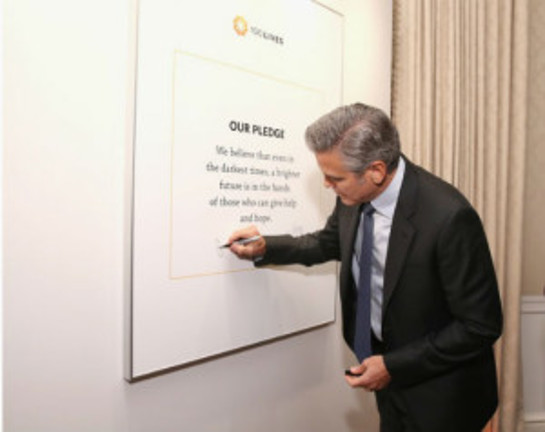 In addition to the launch of the 100 Lives Initiative, The 100 LIVES Aurora Prize for Awakening Humanity was also announced as an empowering tool for recent saviors.
To learn more about the 100 Lives Initiative, visit 100lives.com.