Sunday night's star-studded fundraiser at the Geffen Playhouse and the pre-show host committee dinner grossed over $1.5 million, a record, for the Geffen Playhouse's education, outreach and artistic initiatives.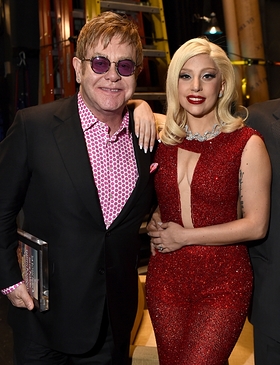 Multi-award winning composer and a Geffen Playhouse Board Founding Trustee Quincy Jones presented the Distinction in Service Award to Ariel Investments President Mellody Hobson and distinguished filmmaker George Lucas. Tony nominated director Jason Moore presented the Distinction in Theater Award to producer David Furnish and internationally renowned singer/songwriter and performer, Sir Elton John.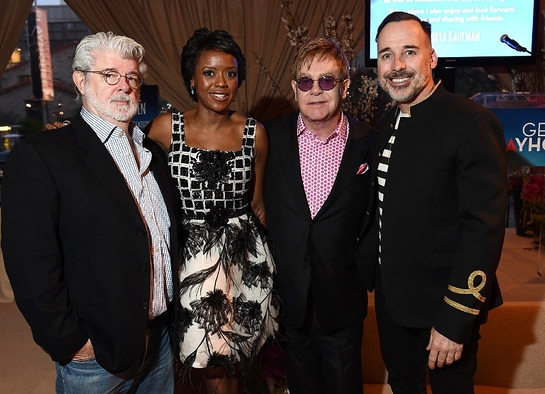 Castle star Nathan Fillion served as Master of Ceremonies for Backstage at the Geffen, an irreverent evening of laughter, music and stories featuring personal "backstage" memories and musical performances by stars of the stage and screen including: Anjelica Huston, Samuel L. Jackson, Beau Bridges and Geffen Playhouse Artistic Director, Randall Arney. Virtuoso violinist, Lee England, Jr. who, coincidentally, played for Mellody Hobson and George Lucas's wedding, performed his version of "All of Me" by John Legend. The multi-faceted actress, singer, dancer and choreographer Toni Basil choreographed 12 dancers who performed a hip hop version of "Swan Lake."
David Geffen served as Honorary Chair of the event; Linda Bernstein Rubin and Loretta Everett Kaufman Co-Chaired the Backstage at the Geffen committee. Pamela Robinson Hollander and Martha Henderson Co-Chair the Geffen Playhouse Board of Directors. The evening was beautifully produced by Gil Cates, Jr. and directed by Randall Arney.
The curtain rose to wild applause as Lady Gaga, surprising everyone including the honorees, took center stage to perform "You and I" accompanying herself on the piano before joining the audience for the remainder of the show.
Monies raised benefit the Geffen Playhouse's artistic initiatives including new play development, playwright commissions, and second productions, as well as the not-for-profit's award-winning education and outreach programs which help bring the excitement of live theater to more than 15,000 disadvantaged youth, seniors and veterans annually.
Backstage at the Geffen title sponsor City National Bank, returning for the sixth year, was joined by presenting sponsors Audi of America, Clay Lacy Aviation, Louis XIII, and Robert K. Kraft, with special thanks to UCLA.
Source: PR Newswire