United Nations Secretary-General Ban Ki-moon has declared 2015 a year for global action on climate, gender and development issues, warning revellers attending the 2015 edition of the Global Citizen Earth Day concert that there is "no Plan B because there is no Planet B."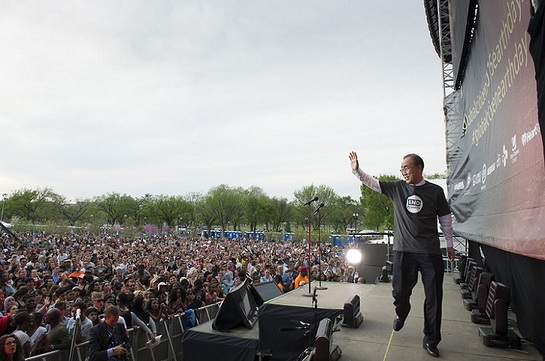 Addressing an electrified crowd gathered on Washington, D.C.'s National Mall for last night's performances which reportedly featured top-billing acts such as will.i.am, Usher, No Doubt, and Mary J. Blige, the Secretary-General urged concert goers to speak up and raise their voices to make a difference.
"I want to hear from you. It's our last chance to slow global warning," cautioned Mr. Ban. "Will you support our global goal to empower women and girls? Will you speak up to get every child in school? Will you raise your voice for people and our planet?"
The Secretary-General's appeal comes as the United Nations gears up to launch its post-2015 development agenda while also rolling out a series of Sustainable Development Goals (SDGs) aimed at reducing poverty, ensuring gender equality and halting and reversing the effects of climate change.
From the stage on the National Mall yesterday evening, Mr. Ban told the audience that 2015 offered the international community its best chance to end global poverty and that this year was a crucial one for global action.
"You have the power. Your generation can make it happen," he continued. "Be a global citizen. Take your passion and compassion and build a better, sustainable world and, together, let's make our global goals a global reality."
Source: United Nations