Diabetes Forecast, the Healthy Living Magazine from the American Diabetes Association, has released its People to Know 2015 List.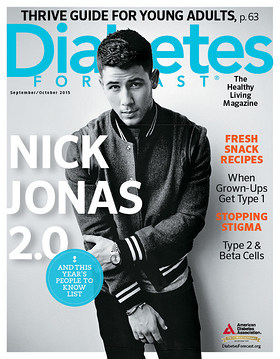 The list captures some of the many people who are raising awareness, providing care, developing new technology and proving that life with diabetes can be an inspiring adventure.
A preview of Diabetes Forecast's 13 People to Know:
• Tim McGraw champions America's Diabetes Challenge, a campaign to help people living with type 2 diabetes set and reach their A1C goals. Tim, motivated by the impact diabetes has had on the lives of his friends and family, hopes to inspire people to take a proactive role in their health. 

• Nick Jonas, wearing an insulin pump and continuous glucose monitor, trains for physically demanding screen roles, creates Billboard hits and advocates for and defends the diabetes community via Twitter.

• Hunter Sego advocated for legislation on safe and fair treatment for kids with diabetes in school, testifying at the Indiana Capitol at the age of 10. Now 18, Hunter continued his advocacy this year, testifying again when legislation was introduced to repeal that law. 

• Cedric the Entertainer has been the voice of the health initiative Step On Up aiming to increase awareness about diabetes-related nerve pain, which his father has battled for years.

• The mySugr team built an app that acknowledges diabetes is sometimes a beast. The app's FDA-registered digital journal lets users defeat an animated diabetes monster by logging blood glucose readings, carb intake, medication, mood and so on.
Also in this issue of Diabetes Forecast:
Slim and Fresh Snacks: Healthy snacks can be a tool to tame hunger and manage weight and blood glucose. Consider Diabetes Forecast recipes for curried almonds, chipotle hummus and roasted-garlic guacamole with endive scoops when you're looking for a calorie-smart snack that is anything but ordinary.
Thrive Guide: Headed to college—new places, faces and thrills—with diabetes along for the ride? Recent grads and current students from the College Diabetes Network compiled a guide for young adults. Their been-there-done-that suggestions cover how to find support on campus, deal with diabetes burn out, drink responsibly and stick up for your rights.
Tenacious D: Type 2 diabetes is progressive. Treatment that once worked may no longer be effective in controlling blood glucose. Dive into what happens to a body with insulin resistance as insulin-producing beta cells fail — and what you can do about it today.
The American Diabetes Association is leading the fight to Stop Diabetes and its deadly consequences and fighting for those affected by diabetes. The Association funds research to prevent, cure and manage diabetes; delivers services to hundreds of communities; provides objective and credible information; and gives voice to those denied their rights because of diabetes. Founded in 1940, our mission is to prevent and cure diabetes and to improve the lives of all people 
affected by diabetes. For more information, please call the American Diabetes Association at 1-800-DIABETES (1-800-342-2383) or visit www.diabetes.org.