The annual Artists for Peace and Justice (APJ) Fundraiser Festival Gala presented by BOVET 1822 recently raised an impressive $1.2 Million.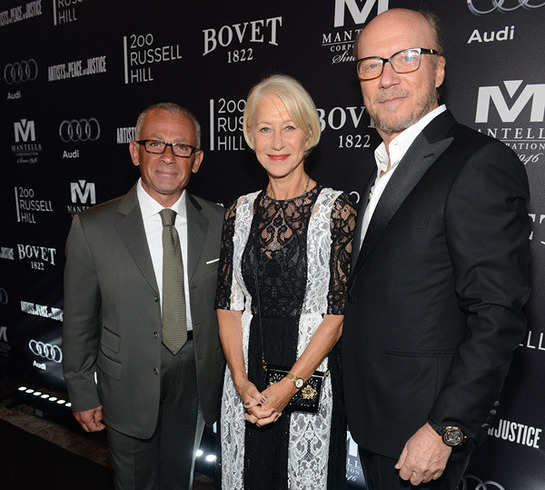 Held at the majestic Casa Loma during the Toronto International Film Festival, the event was co-hosted by an influential team, including BOVET 1822 Owner Pascal Raffy, APJ Founder Paul Haggis, Dame Helen Mirren, Susan Sarandon, and George Stroumboulopoulos. Thanks to the extraordinary support of Bovet 1822, APJ is able to give 100 percent of every dollar raised directly to supporting health, dignity and education initiatives in Haiti.
Some of the evening's most recognizable faces lined the red carpet, including Win Butler and Regine Chassagne from the band Arcade Fire, Grammy-Award-nominated American singer-songwriter, musician, DJ, and photographer Moby, Slaight Music performing artist Tomi Swick, reality star and philanthropist Sophie Tweed-Simmons, ET Canada host Cheryl Hickey, and actors Gisella Marengo, Gabriella Wright, Madalina Ghenea, and Jimmy Jean-Louis.
The partnership between BOVET 1822 and APJ began in early 2012, and in late 2013, BOVET 1822 Owner Pascal Raffy committed to donate $1 million per year to APJ's educational efforts in Haiti, including the Academy for Peace and Justice. Immediately following the 2010 earthquake. APJ purchased land and constructed Haiti's largest and first free high school, the Academy for Peace and Justice, which serves the poorest and most deserving youth in Port-au-Prince. Since that time, APJ has provided over 2,000 underprivileged children with the opportunity to continue their education beyond the sixth grade. Growing by 400 students each year, the Academy will reach 2,800 students at full capacity in 2016.
The Property Brothers Drew and Jonathan Scott acted as theatrical live auction hosts, helping to sell extraordinary items for impressive sums in support of the cause. Paul Haggis, Academy-Award-winning filmmaker and APJ founder gratefully stated, "With the generous donations from our supporters, we are proud to recognize the first-ever graduating class from the APJ Academy, a true testament to our organization's commitment to educating Haitian children and providing them the life skills they need to thrive in their own communities."
On this beautiful evening guests were treated to a performance by the Grammy-Award-nominated American singer-songwriter, musician, DJ, and photographer Moby. Slaight Music artist Tomi Swick also entertained the crowd with his Juno-Award-winning rock music.
Dame Helen Mirren presented founding APJ board member Susan Sarandon with the inaugural Artists for Peace and Justice Award. Sarandon graciously accepted her reward and commended the cause shared by APJ and BOVET 1822, stating, "APJ allows people to preserve their culture and use their imagination."
After heartfelt words from APJ CEO David Belle recognizing the generosity of Pascal Raffy and the House of BOVET 1822 for donating 1 million dollars a year to the cause, Mr. Raffy informed the audience that "It is not for the benefit of my house but the future of the children. We should never be ashamed of wealth and success, enjoy it, but it is also our duty to give back. I applaud the true gentlemen and ladies who have joined us in making a difference."