The Duke of Cambridge and Prince Harry joined the BBC's DIY SOS team in Manchester as they helped turn a street scattered with derelict houses into liveable homes for ex-service personnel.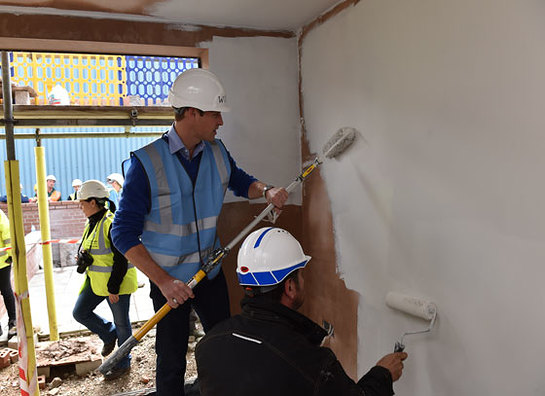 Over the past few weeks The Big Build: Veteran's Special have been renovating eight buildings, streetscaped an entire street and rejuvenating the façade of 62 houses to create the basis of a new mixed community for service personnel making the transition to civilian life, as well as for long-standing residents.
The re-development has also created a support centre on the street, run by Walking with the Wounded and the Royal British Legion to assist ex-servicemen and women with retraining and on-site support for those who have been injured – mentally or physically – while in the Armed Forces.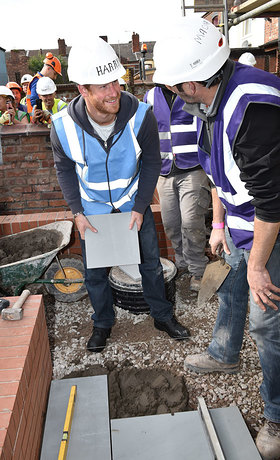 Servicemen and women who have made great personal sacrifices for our country deserve healthy, dignified, and successful post-military lives. Yet ex-service personnel account for a large percentage of the homeless in Britain. At the same time, there are currently over half a million empty properties in England. For this project, 26 houses out of the 64 on two streets have been gifted to Haig Housing, which runs housing schemes specifically for veterans.
As the memory of conflicts fade and public focus beings to move elsewhere both The Duke and Prince Harry will continue to draw attention to the ongoing challenges facing service personnel making the transition to civilian life. That can include offering support with accommodation, employment or health issues.
During the visit, The Princes joined the DIY SOS team of builders and hundreds of volunteers to help with the final stages of the build. They worked alongside other ex-servicemen and women, who are also taking part in the renovation work as they develop their skills and re-train into a new trade.
The Duke and Prince Harry also met the street's existing residents and members of all the organisations who have contributed to BBC's DIY SOS team's most ambitious project to date.
The DIY SOS Big Build: Veteran's special will be aired on BBC One at 9pm on 14th and 21st October 2015.
Source: DukeAndDuchessOfCambridge.org