On Monday, October 12, 2015, Sir Elton John and Billie Jean King hosted the star-studded 23rd annual Mylan World TeamTennis (WTT) Smash Hits tennis match at the most iconic hotel on the Las Vegas strip – Caesar's Palace.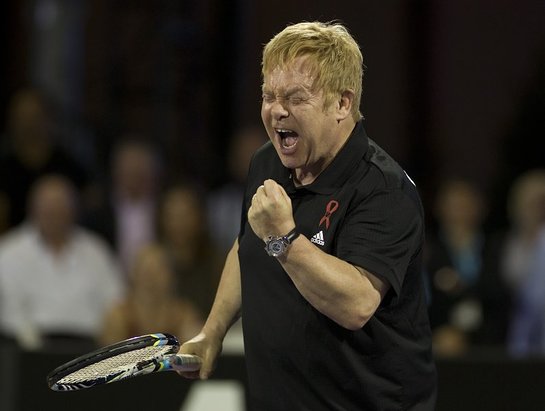 The event was a great success, raising more than $1 million to benefit the Elton John AIDS Foundation (EJAF) and Aid for AIDS of Nevada.
"This highly successful event brings the 23-year cumulative total of dollars raised by Smash Hits to more than $14 million for EJAF's grant-making initiatives supporting HIV/AIDS-related prevention, stigma reduction, and direct treatment, care, and service programs across the United States," said EJAF Founder Sir Elton John, "It also provides additional funding for local AIDS charities, such as Aid for AIDS of Nevada, in the cities hosting the event."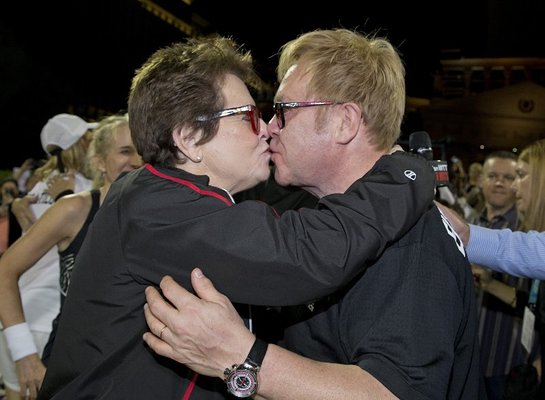 Prior to the match, Elton, Billie Jean, and all of the featured players attended a VIP donor reception and live auction, featuring a private hitting session with Andre Agassi and Stefanie Graf and two signed Elton John piano benches, which raised nearly $500,000.
The match began with a celebrity doubles set, in which Elton teamed with longtime friend Martina Navratilova for an upset 3-2 victory over Andre Agassi and Stefanie Graf. Then, tennis stars Andre Agassi, Tracy Austin, James Blake, Lindsay Davenport, Mardy Fish, Stefanie Graf, Martina Navratilova, and Andy Roddick divided into two teams – Team Elton and Team Billie Jean – and treated the sold-out crowd to a modified World TeamTennis match, including one set each of men's doubles, women's doubles, men's singles, women's singles, and mixed doubles.
This all-star player lineup, which includes five Hall of Fame members, represents more than 700 singles and doubles titles plus 100 Grand Slam Championships and six Olympic medals. Team Elton won the match 17-11, giving Team Elton a 12-11 edge in the all-time series.
Even though her team was on the losing end of the final score, King was thrilled with the Las Vegas debut of Mylan WTT Smash Hits. "We raised a lot of money for EJAF and for local HIV/AIDS organizations," said King. "The players come for nothing every year, so they are amazing. The crowds were so packed tonight, we had to turn people away. I loved being here at Caesars Palace, but I have to live with being down to Elton now for a full year. He will be reminding me of it."