Iraq and Afghanistan Veterans of America (IAVA) held its 9th annual Heroes Gala last week.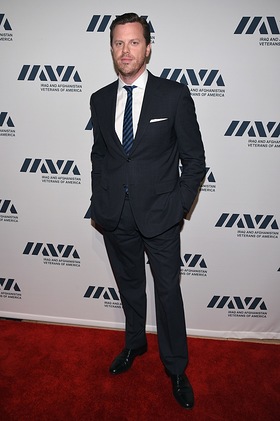 Hosted by Willie Geist, the event featured special guest Stephen Colbert, honorees Daniel Rodriguez and Scott Wine, event Co-Chairs Greg D'Alba and Joe Abruzzese, and IAVA Founder and CEO Paul Rieckhoff, and other guests included Peter Berg, Cale Conley, Patrick Kennedy, Norman Lear, J.R. Martinez, Wes Moore, Craig Newmark, Brooke Baldwin and more.
Each year, IAVA recognizes individuals who have shown an immense dedication
to the veterans community. Army veteran Daniel Rodriguez received this year's Veteran Leadership Award, awarded each year to a veteran who has demonstrated immense courage and leadership within the veterans community. The former Army Sergeant served tours in both Iraq and Afghanistan from 2006 to 2010. Rodriguez most notably earned a Bronze Star with a "V" Device for Valor and a Purple Heart for his courageous fighting in the Battle of Kamdesh on October 3, 2009.
Chairman and CEO of Polaris Industries Inc., Scott Wine, was this year's Civilian Leadership Award Honoree. As head of the power-sports vehicle manufacturer, Wine has expanded the company to include deployable advanced ground off-road vehicles to protect soldiers in the field. Victory Motorcycles, a Polaris affiliate, has been an invaluable strategic partner to IAVA, making significant contributions to the veteran's community.
The evening raised a significant amount of money for veterans and their family this year. The gala consisted of a live auction with one-of-a-kind items, including a Montauk weekend getaway, a bake with "The Cake Boss" experience that was sold twice after an intense bid war, a backstage pass to
NFL
Today on
CBS
, and a 2016
IAVA
Victory "Gunner" motorcycle signed by Stephen Colbert, which was purchased by event co-chair Greg D'Alba and James Fry, who then donated the motorcycle to a veteran. The live auction was rounded out by a
NASCAR
experience with
IAVA
driver Cale Conley, which was also a hot ticket of the night, and sparked Conley to offer two separate experiences for both of the highest bidders. The emotional and inspiring evening raised more than $1.2 million and counting.
IAVA provides valuable resources and empowers veterans to connect with one another, fostering a strong and lasting community. Through education, advocacy and community building, IAVA strives to create a country that honors and supports veterans of all generations. Greg D'Alba, President of Global Sales and Marketing at WME and IMG, and Joe Abruzzese, President of Advertising Sales at Discovery Communications, were the 2015 IAVA Heroes Gala Co-Chairs.
The IAVA 9th Annual Heroes Gala was made possible by Hero Sponsor Craig Newmark and Craigconnects, and sponsors Victory Motorcycles, Discovery Networks, American Heroes Channel, Legg Mason Global Asset Management, WME, NBA Cares, USAA, DAV, HBO, Morgan Stanley, TriWest Healthcare Alliance, Bill Tovell, CNN, Fried Frank, PBC USA Investments Inc., Barbaricum, Vencore, Halfaker and Associates, Retail Ready Career Center, Inc., Michael Leven, Western Asset Management Company, Hero-Clean, The District Communications Group, Salesforce, American Federation of Government Employees (AFGE), Cushman & Wakefield, Jones Lang LaSalle, Patients Like Me, JP Morgan Chase, Military.com and MSNBC.