By Michelle Vink on
On December 12th, Philanthropist & Founder of In A Perfect World Foundation, Manuela Testolini and husband, Eric Benet opened their private Los Angeles home to close friends and family to celebrate ten years of global change towards creating a better world.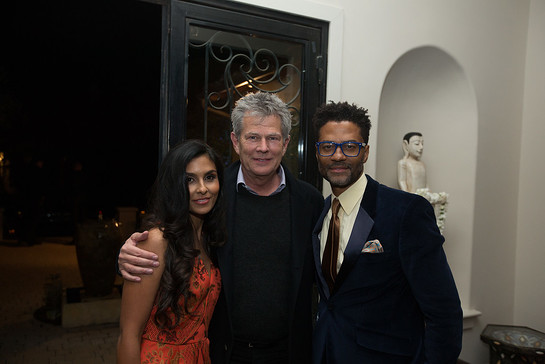 "10 years ago, a little boy in a homeless shelter said to me, 'In a perfect world, I'd have a blue crayon'." said Manuela Testolini. "Little did he know that he would inspire me to build an international foundation based on this idea of a 'perfect world'. Talking to children from all walks of life, living in various circumstances, I discovered that a child's 'world' could be as simple as their classroom, their room in a foster home, or even their neighborhood. What was important to me was to hear those voices and to empower those children to spark meaningful change. 19 schools, 500 teachers projects and 30,000 kids later… I'd say we've succeeded."
The night opened with Eric Benet speaking about his adoration for a woman he truly feels has a special gift of compassion and kindness.
"One of the things I love most about my wife is that innate desire she has to make this world better. Her selflessness is contagious… It's inspiring."
Founders from buildOn, Free Arts Minnesota, and many others spoke on their gratitude for the support they have received over the last decade, allowing them to create real change, both locally and globally. Manuela took a moment to talk about her recent trip to Haiti and held back tears as she described how important the mission has been to her.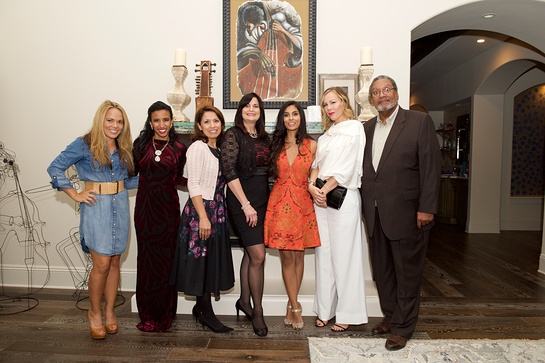 Not your typical philanthropist, Manuela has not just personally funded the projects but has been in the trenches, working on site at most of the projects. At the event, she made the announcement to pledge one million dollars to build another 33 schools in the next 5 years and continue to build her efforts on both a local and global scale.
As a true testament to the change Manuela wants to see in the world by empowering youth, her 4-year-old daughter, Lucia, asked to join her parents on stage so she could provide further details on their experience in Haiti.
"I wanted to give the boy a toy, because the boy just had a wheel to play with." Lucia continued with such a deep understanding and passion, the audience was amused, yet incredibly moved.
The night ended with an impromptu intimate performance around the piano, with Stevie Wonder, David Foster and Eric Benet. With a final serenade from Eric to Manuela, a perfect ending to a night filled with love, compassion, hope and new beginnings.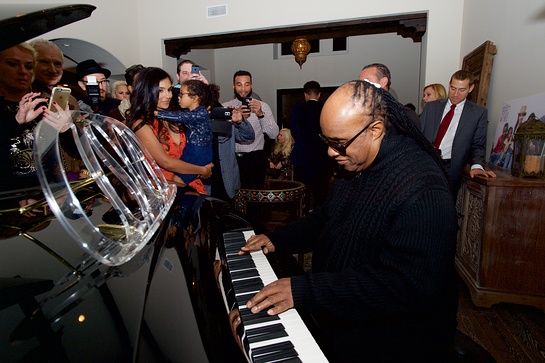 In A Perfect World, there would be more people like Manuela Testolini.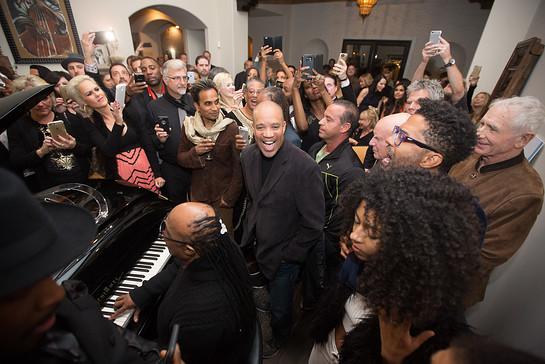 Celebrity Guests & Supporters of the Event included Samuel & Latanya Jackson, Alfred Enoch, Matt McGorry, Kenny Lattimore, Shaun Robinson, Travis Van Winkle, Mayte Garcia, Claudia Jordan, Kerry Gordy, Obba Babatundé, Frédéric Prinz von Anhalt, Ian La Frenais, Willie Roaf, Michael Bearden, Michael Beckwith and more.