Gabrielle's Angel Foundation for Cancer Research has partnered with award-winning fashion and celebrity photographer and director Markus Klinko for the grand reveal and auction of never-before-seen photos of the beloved, international pop culture legend and fashion icon, David Bowie.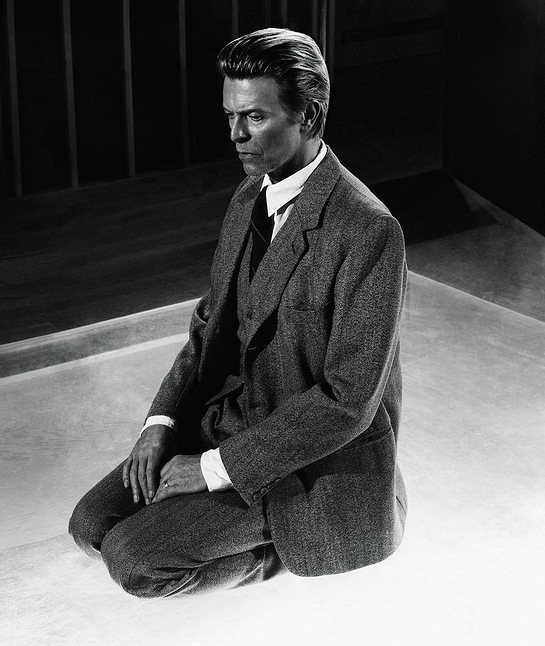 A selection of prints from the collection will be auctioned exclusively to benefit Gabrielle's Angel Foundation for Cancer Research.
Klinko's high quality, fine art photographic prints of the late David Bowie will be revealed at a private Media & VIP Reveal Party on Thursday, February 25th, at the Markowicz Fine Art Gallery in Miami, FL, (110 NE 40th St.) from 7pm to 9 p.m. The photographs are limited editions, autographed by the contemporary photographer and are available in a variety of sizes. This exclusive reveal is made possible in partnership with Markowicz Fine Art from the Miami Design District.
Thirty-five of Klinko's prints, including 2 prints of David Bowie, will be donated to Gabrielle's Angel Foundation for Cancer Research and sold in an online auction starting on March 31, 2016. One hundred percent of the net proceeds will support the cancer research initiatives of the Foundation.
"Markus is as much of a visionary in the art world as Bowie was in the music world. We are extremely honored to be a part of this celebration of two incredible artists," Denise Rich, Co-Founder of Gabrielle's Angel Foundation for Cancer Research, said.
Made possible by Fujifilm, the collection of exclusive photos that will be revealed includes a set of 14 FUJIFILM instant film prints of the late Bowie taken in 2001, unseen intimate images, and daring shots with the artist. Many of the images were shot using the beloved FUJICHROME PROVIA film and printed on the radiant Fujiflex Crystal Archive Printing Material.
World-renowned photographer Klinko collaborated with Bowie's wife Iman for the cover of her book, "I am Iman," and met Bowie thereafter. For almost 15 years, he photographed the late singer on multiple occasions, including the shoot for the cover of his CD "Heathen," – one of the most recognizable images of his career – and photo spreads for glossy magazines such as GQ and Interview.
Klinko created the iconic album cover for Beyoncé's "Dangerously in Love," and Mariah Carey's "The Emancipation of Mimi." Klinko has also worked with celebrities such as Lady Gaga, Jennifer Lopez, Britney Spears, Kanye West and Naomi Campbell to name a few. His portfolio of editorial clients include Vogue, Vanity Fair, The New York Times and Harper's Bazaar.
Markowicz Fine Art will be the first exhibition to showcase the unreleased photos of David Bowie by Markus Klinko. The photos will be on display for the public at the gallery from February 26th through mid-March 2016.
Find out more here.