Stars gathered for Rush Philanthropic Arts Foundation's Inaugural Art for Life Los Angeles event on Tuesday.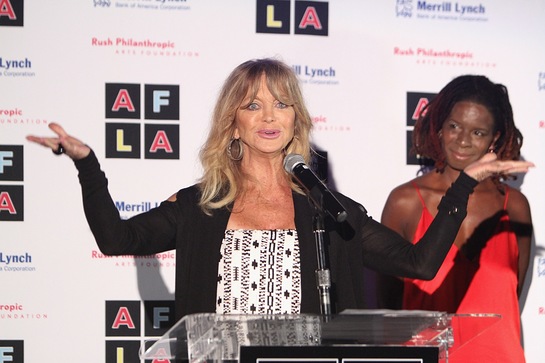 Hosted by Russell Simmons and Danny Simmons, this year's inaugural event honored Troy Carter and Goldie Hawn for their careers and philanthropic achievements, and their unyielding dedication to our youth, arts and education initiatives; Music provided by DJ Kiss.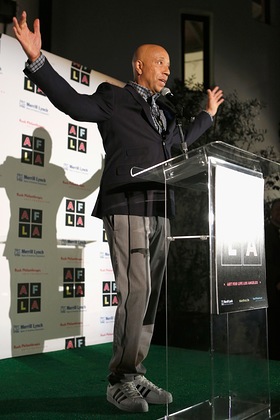 Guests included Host Committee members James Andrews, Nicole A. Bernard, Amanda & Shepard Fairey, Chloe Flower, Paul Gerben, Philippe Hoerle-Guggenheim, Tamara Mellon, Camilla Olsson, Suzy Ryoo, and Jim Williams. Additional guests included Devon Aoki, Adrienne Bailon, Fonzworth Bentley, Lyriq Bent, DJ Cassidy, Mayte Garcia, Jackie Long, Lucy McIntosh, O'Neal McNight, Isley Nicole Melton, Michael Ovitz, Dr. Drew Pinsky, Robert Ri'chard, Kendrick Sampson, P.K. Subban, Porsche Thomas, Bruce Vilanch, and many more.
The event featured a spotlight tour of Russell Simmons' contemporary art collection led by Andrea Fiuczynski, EVP/Chairman, Sotheby's Americas.
Art for Life Los Angeles benefitted Rush Philanthropic Arts Foundation's arts education programs for inner city youth and gallery programs for emerging artists and curators, as well as the opportunity to extend our reach to support the youth and communities in Los Angeles.
This event was generously sponsored by Merrill Lynch.
Now celebrating its 21st year, Rush Philanthropic Arts Foundation was founded in 1995 by brothers Russell, Danny and Joseph "Rev. Run" Simmons, a 501c3 organization, dedicated to providing inner-city youth with significant exposure and access to the arts, and to offering exhibition opportunities for emerging and underrepresented artists. Over the past 21 years, Rush has developed a broad base of friends, collaborators and supporters dedicated to supporting its mission. In addition to the 3,000 students served annually in its education programs, each year Rush exhibits the work of over 100 emerging and community-based artists in its galleries, and welcomes over 10,000 gallery visitors to its spaces in Chelsea, Manhattan, New York (Rush Arts Gallery) and Brooklyn, New York (Corridor Gallery).