The Samuel Waxman Cancer Research Foundation (SWCRF) hosted its 19th Annual Collaborating for a Cure Benefit Dinner & Auction, posthumously honoring footwear industry icon Vince Camuto and featuring a musical performance by the legendary Roger Daltrey of The Who on Thursday, November 10th, 2016, at Cipriani Wall Street.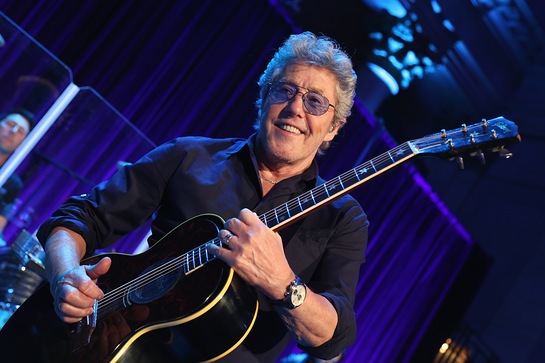 The event marked the fortieth anniversary of the founding of the Samuel Waxman Cancer Research Foundation (SWCRF) by noted oncologist Samuel Waxman, M.D. and introduced the SWCRF Vince Camuto Memorial Cancer Research Program in honor of Mr. Camuto, founder of Camuto Group, who passed away of prostate cancer in 2015. Louise Camuto, Chief Creative Officer of Camuto Group, accepted the honor in memory of her late husband. The evening was hosted by Chris Wragge, co-anchor of CBS 2 News This Morning, as master of ceremonies, and raised approximately $2.5 million for SWCRF cancer research programs.
This year's event was attended by more than 750 corporate executives, board members and their guests. The money raised will support the Foundation's research efforts to produce a cure for cancer by reprogramming cancer cells and to deliver tailored, minimally toxic treatments to patients. The scientists funded by the SWCRF have made significant breakthroughs in cancer research, including identifying pathways to deliver novel therapies to treat cancer.
SWCRF Collaborating for a Cure host Michael Nierenberg gave opening remarks welcoming attendees to the Dinner & Auction and thanked the SWCRF's many supporters for their continued efforts to raise funds for cancer research. He then surprised Master of Ceremonies Chris Wragge with the SWCRF Collaborator for a Cure Award in recognition of his contributions to the SWCRF mission as host of many of the Foundation's fundraisers over the years. After dinner, Wragge introduced a touching video tribute to Vince Camuto in which fashion and retail luminaries, including Macy's Inc. CEO Terry Lundgren and designer Tory Burch, recalled what made him special as an industry leader. Wragge then welcomed to the stage Dr. Waxman who provided the guests with an overview of the Foundation's new SWCRF Aging and Cancer Research Initiative, which will investigate the genetic and environmental factors that drive increased incidence of mortality among cancer patients over the age of 50. Dr. Waxman commented on how the SWCRF Vince Camuto Memorial Cancer Research Program would in part support the Aging and Cancer program and introduced Louise Camuto to accept the honor. Mrs. Camuto conveyed how she supports the research SWCRF funds to develop less toxic treatments for cancer patients and recalled the pain of witnessing her beloved husband lose his battle against prostate cancer a year and a half ago. She ended her speech by thanking Dr. Waxman for founding the SWCRF Vince Camuto Memorial Cancer Research Program in honor of her late husband, which will support the work of SWCRF grantees with $300,000 over three years.
The evening's exciting live auction was led by Hugh Hildesley, Executive Vice President of Sotheby's Auction House. Guests bid on exclusive items such as: a $10,000 shopping spree and lunch with John Varvatos which sold for $15,000; an America's Cup Yacht Race experience captained by former America's Cup team members, sold for $8,000; a Private Wine Tasting at Italy's most popular wineries for $16,000; an exclusive opportunity to meet Roger Daltrey and receive a guitar autographed by the famous singer, which sold to the highest bidder for $15,000. The highest bid of the night, $48,000, went to a Private Jet Experience for eight people which includes 10 hours of air travel on the state-of-the-art, luxurious Hawker 4000. Other travel packages included a CMH five-day Heli-skiing trip for two in Canada, which sold for $16,000, and a Milwaukee Bucks Experience including a G4 flight to a game and team memorabilia that sold for $16,000.
Online auction items, which will be available for bidding at CharityBuzz.com until November 22, include: a behind-the-scenes visit to the set of The Today Show with a chance to meet hosts Hoda Kotb and Kathie Lee Gifford, a one-week stay in a gorgeous two-bedroom apartment in Paris, four Coaches Club tickets to watch the New York Jets play against the Miami Dolphins at MetLife Stadium on December 17, a Maroon 5 autographed Fender Squier Bullet Guitar, two tickets & cocktails to a taping of Bravo's Watch What Happens Live! Hosted by Andy Cohen in New York City, and two Tickets to the John Varvatos Fall/Winter Runway Show on February 2, 2017 in New York plus a leather duffle bag.
After the auction, guests were treated to an exclusive concert by Roger Daltrey, who performed hits from his solo career and his legendary run as lead singer of The Who. Daltrey was joined on stage for a set by surprise guest performer Willie Nile to the audience's delight.
Known affectionately by New Yorkers as "The Waxman," this yearly fête is considered to be among the top fundraising events in New York City, attended by more than 750 corporate executives, board members, and their guests. In recent years, "The Waxman" has raised millions of dollars to support the Foundation's research efforts to produce a cure for cancer. Past celebrity performers have included Ziggy Marley, Train, Peter Frampton, Gregg Allman, Kid Rock, Steely Dan, Glenn Frey, Joe Walsh, Sheryl Crow, John Fogerty, and Counting Crows.