Seven-time GRAMMY nominee Eric Church will perform at AT&T Stadium during halftime of the Dallas Cowboys Thanksgiving Day game on FOX against the Washington Redskins, kicking off The Salvation Army's annual Red Kettle Campaign.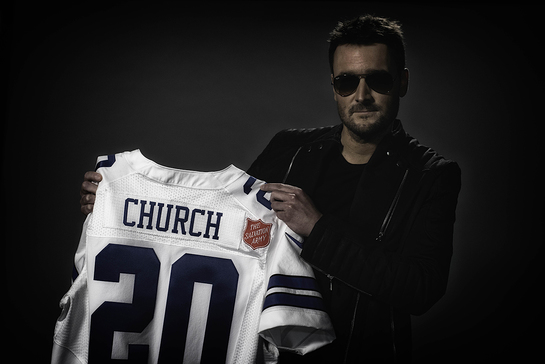 The nationally televised LIVE halftime performance marks the 20th year the Cowboys have partnered with The Salvation Army to launch the iconic campaign, which raises millions of dollars throughout the holiday season.
Donations help provide meals and shelter for families and Christmas toys for millions of children, in addition to numerous other social service programs The Salvation Army provides year-round, such as substance-abuse programs, shelter and counseling for victims of domestic violence, and military veteran assistance.
"Eric Church is not only one of the hottest names in country music, but he has a passion [for] giving to those in need, making him a great fit for what Red Kettle Kickoff is all about," said Charlotte Jones Anderson, executive vice president and chief brand officer for the Cowboys and former national advisory chairperson for The Salvation Army. "Millions are impacted every year by the good works of The Salvation Army, and our goal is to help educate Americans that every penny dropped in those red kettles helps make a difference."
The Red Kettle Campaign, which begins on Thanksgiving Day and runs through Christmas Eve, is the largest and longest-running fundraiser of its kind. It raised $149.6 million during the 2015 campaign alone and has raised more than $2 billion since the Cowboys Thanksgiving Day partnership began in 1997.
"The visibility and true partnership the Dallas Cowboys have extended to our organization for the past 20 years to mark our most crucial fundraising season is something The Salvation Army is extremely grateful for," said Lt. Col. Ron Busroe, national community relations and development secretary for The Salvation Army. "We are looking forward to their continued support and another exciting kickoff performance."
As the recent Country Music Association Album of the Year winner for his latest release "Mr. Misunderstood," Church has garnered GRAMMY, CMA, and Academy of Country Music Album of the Year nominations since releasing his first album, "Sinners Like Me," in 2006. He is a four-time CMA and five-time ACM award winner and has quickly become one of the biggest names in country music. He is currently gearing up for his "Holdin' My Own" headlining tour beginning in January.
The Red Kettle Kickoff halftime show has been nationally televised for all of its 20 years, reaching millions of viewers with the campaign's message. Church is the newest addition to a list of Red Kettle Kickoff celebrity halftime performers, including Luke Bryan, Selena Gomez, Kenny Chesney, Kelly Clarkson, Destiny's Child, Randy Travis, and Reba McEntire.
In addition to donating to the 25,000 traditional bell ringers that will be stationed at retail locations throughout the country or online at RedKettleReason.org, supporters can start their own #RedKettleReason fundraisers and designate their contributions to cause areas that fight hunger, provide shelter, or ensure Christmas assistance for those in need. Donations can also be made through the Army's text-to-give program. By texting the word "KETTLES" to 51555, donors can send any amount to the Red Kettle Campaign.
From its humble beginnings as a Salvation Army captain's start-up program in 1891 in San Francisco, the Red Kettle Campaign has grown into one of the most recognizable and important charitable campaigns in the United States. It provides toys for kids, coats for the homeless, food for the hungry, and countless social service programs year-round. As part of the campaign, more than 25,000 Salvation Army volunteers throughout the country ring bells and solicit donations to the red kettles.