Got Your 6 has announced five new 6 Certified projects in recognition of film, television, theatrical, and digital content that normalizes depictions of veterans as leaders and community assets.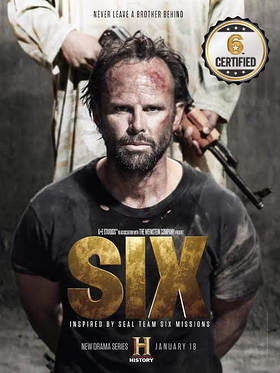 The projects range from the re-creation of WWII soldier musicals in "Blueprint Specials" and SEAL Team Six-inspired scripted drama series "SIX," to the portrayal of a veteran and single mother in "One Day at a Time" and a U.S. Army veteran-turned-police officer in "Patriots Day."
For the first time, Got Your 6 certified a piece of digital content, a nine-minute film produced by The War Horse News and featured in the online version of an article in Vanity Fair. The film follows the medical recovery of Medal of Honor recipient and U.S. Marine Corps veteran Kyle Carpenter.
"Due to our smaller all volunteer force, fewer people today know a veteran than ever before in our nation's history and are therefore more susceptible to the false narrative that veterans are broken heroes," said Bill Rausch, an Iraq War veteran and executive director of Got Your 6. "By working with the entertainment industry, we have an opportunity to change commonly held misperceptions about our veterans by recognizing projects that go the extra mile to portray those who served in an accurate light."
Got Your 6 announced the following projects were awarded with 6 Certified status:
"Blueprint Specials"
The second theatrical production to be 6 Certified, the "Blueprint Specials" play scripts were recently rediscovered after going missing for half a century. The Special Services Division of the War Department originally produced this series of plays in 1944 and 1945 with the intention of engaging active duty service members in "GI shows for GI audiences." Written by Army veteran and Pulitzer Prize winner Frank Loesser ("Guys & Dolls," "How to Succeed in Business Without Really Trying"), these "Blueprint Specials" served to boost morale and bring the arts to troops fighting overseas. Debuting January 6, these historical pieces will be brought back to life in performances by both veterans and Broadway stars aboard the USS Intrepid in New York. Waterwell
"One Day at a Time"
Launching January 6, this Netflix reboot of the 1975 original by WWII veteran Norman Lear centers on a present-day Cuban-American family. It stars Justina Machado as Penelope Alvarez, an Army veteran-turned-nurse and a single mom who excels at raising her teenaged son and daughter with the help of her traditionalist mother, played by EGOT Rita Moreno. The veteran community is also presented throughout the series by way of Penelope's ex-husband and friends. Netflix
"Patriots Day"
"Patriots Day" focuses on the 2013 Boston Marathon bombing and follows the police officers, first responders, investigators, and survivors who sought justice in the aftermath. Like their previous collaborations "Lone Survivor" and "Deepwater Horizon," Peter Berg and actor/producer Mark Wahlberg consulted with, hired, and cast veterans. In addition to these cast and crew, many law enforcement characters in the film were played by actual officers, many of whom are also real life veterans. Academy Award-winner J.K. Simmons also plays Army veteran and Watertown Police Sergeant Jeffrey Pugliese, who is quoted as saying, "I don't consider myself a hero—we're just a group of ordinary guys who were put in an extraordinary situation, and we just performed extraordinarily." "Patriots Day" is currently playing in limited release and opens in theaters nationwide on January 13. CBS Films and Lionsgate
"SIX"
HISTORY's new military combat drama series "SIX," follows members of Navy SEAL Team Six, modern American warriors, whose covert mission to eliminate a Taliban leader in Afghanistan goes awry when they uncover a U.S. citizen working with terrorists. Inspired by real missions, the series authentically captures the inside world of America's elite Special Operations unit – what these SEALs do, their personal lives, combat and the life-and-death decisions they make to protect and serve their country. Created and produced by veterans, the show also employed a retired Navy SEAL as the series' technical advisor and associate producer. "SIX" premieres January 18. A+E Studios in association with Weinstein Television
"The War Horse News" via Vanity Fair
Appearing as a video feature of November 2016's Vanity Fair article "Inside the Painstaking Recovery Process of a Medal of Honor Marine," medically retired Marine author and journalist Thomas J. Brennan worked with filmmaker George Steptoe to create a nine-minute digital short that follows the long medical recovery of then-Lance Corporal Kyle Carpenter. An incredible amount of research was conducted over the course of the year to create this nine-minute multimedia project, which was further verified by Vanity Fair's fact checking team. The War Horse News, a "nonprofit news outlet and community dedicated to investigating the Departments of Defense and Veterans Affairs," is committed to the accurate and fair portrayal of veterans in media. Vanity Fair
"The entertainment industry has the unique ability to reach into living rooms across America and help change the perceptions many of us have about our veterans," said Bruce Cohen, producer of "American Beauty" and "Silver Linings Playbook." "By developing scripts and characters founded on accurate depictions of veterans, content creators can help eliminate stereotypes and bridge the gap between civilians and those who served."
"The 6 Certified program has developed into a dynamic movement in Hollywood showcasing real impact with dozens of projects across all aspects of the entertainment industry joining the cause," said Charlie Ebersol, chairman and founder of The Company. "It's an honor to be a part of the effort to shift public perception of today's veterans on a national scale by recognizing the work of content creators committed to getting it right."
"We are so honored to receive this distinction. There are so many veterans in America, each with a different and nuanced story apart from the stereotypes we sometimes see portrayed in the media. As writers, actors, and producers we have an obligation to take every opportunity to present accurate portrayals of veterans, which we hope we have begun to do on 'One Day at a Time.' Being recognized by Got Your 6 is truly rewarding," said executive producers Gloria Calderon Kellett and Mike Royce.
Got Your 6 launched the 6 Certified initiative in early 2015 as a way to challenge industry executives and content creators to craft more thoughtful narratives around veterans and military families. Since the launch, 41 projects have been certified, including Warner Bros. Pictures' "Sully," Lionsgate's "Hacksaw Ridge," and Universal Pictures' "Jurassic World," as well as episodes and seasons of Netflix's "Marvel's Luke Cage," FX's "Justified," Fox's "Gotham," FX's "Fargo," and ABC's "Modern Family."
To become 6 Certified, a project must contain a representative and balanced depiction of veterans and fulfill at least one of the following pledges:
DO YOUR HOMEWORK
Research or consult with real veterans, family members, or subject matter experts in an effort to create accurate representations
CAST A VETERAN
Hire a veteran actor to play a substantial role
HIRE A VETERAN WRITER
Employ a veteran writer to contribute to the narrative
PORTRAY A VETERAN CHARACTER
Develop a multi-dimensional veteran character
TELL A VETERAN STORY
Develop a narrative with meaningful and accurate veteran themes
USE VETERANS AS RESOURCES ON SET OR IN WRITERS' ROOMS
Have veterans present for consultation throughout the filmmaking process
After the project has met the requirements for certification, it may be submitted by a studio or production company once the project enters post-production. After the submission is complete, the project is evaluated by the 6 Certified Review Committee, an independent group of subject matter experts who review all submissions and grant 6 Certified status.
The current members of the 6 Certified Review Committee include: Bruce Cohen, producer of "American Beauty" and "Silver Linings Playbook"; Greg Silverman, president, creative development and worldwide production, Warner Bros. Pictures; Charlie Ebersol, chairman and founder of The Company; Bonnie Carroll, president and founder of the Tragedy Assistance Program for Survivors (TAPS); Tim Norman, director of human resources, DreamWorks Animation; Seth Smith, director of campaigns and programming for Participant Media; Marjorie Williams, vice president, business and legal affairs, Endemol Shine North America; and Bill Rausch, executive director of Got Your 6
Additional information on certification is available at gotyour6.org/6-certified.
The 6 Certified program is operated by Got Your 6, the national veteran campaign that empowers veterans to lead a resurgence of community across the nation. The campaign believes veterans return home as leaders and team builders and is named after the military term meaning "I've got your back."