The SAG Awards Ceremony Auction has kicked off at sagawards.org/auction.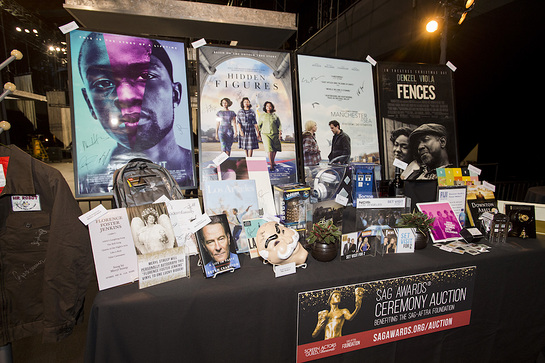 The SAG Awards Ceremony Auction offers movie and television fans the chance to win autographed collectibles signed by many of this year's nominated actors and casts, including a 12-inch vinyl record of "Florence Foster Jenkins" to be personally autographed by Meryl Streep, a "La La Land" 7-inch vinyl and mini poster signed by Emma Stone, a film still canvas print from "Jackie" signed by Natalie Portman, posters signed by the casts of "Moonlight," "Manchester by the Sea," "Fences," "Hidden Figures," "Arrival," "Captain Fantastic" and more. Also up for bid are set visits to Netflix's "The Ranch," "NCIS: Los Angeles," "E! News," "Entertainment Tonight" and "The Insider," as well as premium items and unique experiences provided by the networks, studios, and SAG Awards sponsors. The auction closes Monday, February 6 at 9 p.m. (ET) / 6 p.m. (PT).
Proceeds from the SAG Awards Red Carpet Bleacher Seats Auction support the SAG-AFTRA Foundation's signature children's literacy programs: Storyline Online (storylineonline.net) and BookPALS (Performing Artists for Literacy in Schools) where professional actors read to more than 12 million children in classrooms and online every month. The auction also supports the Foundation's Catastrophic Health Fund, Emergency Assistance and Scholarship Program for SAG-AFTRA members and their families.
The following is a list of items up for bid at the SAG Awards Ceremony Auction organized by autographed memorabilia & collectibles, experiences, and premium items.
Experiences, Tapings and Packages
• Netflix's "The Ranch" set visit for 4 and 4 VIP audience seats
• "NCIS: Los Angeles" set visit for two
• "E! News" set visit for two
• "Entertainment Tonight" and "The Insider" set visit for two
Autographed Collectibles and Memorabilia
• "Arrival" poster signed by Amy Adams and Eric Heisserer
• "Moonlight" poster signed by director Barry Jenkins and cast members
• "Fences" poster signed by Viola Davis, Denzel Washington and cast members
• "Manchester by the Sea" poster signed by Casey Affleck, Michelle Williams and Kenneth Lonergan
• "Manchester by the Sea" mini poster signed by Affleck, Williams and Lonergan
• "Hidden Figures" poster signed by Taraji P. Henson, Octavia Spencer, Janelle Monáe and cast
• "Captain Fantastic" poster signed by Viggo Mortensen and cast members
• "Florence Foster Jenkins" 12-inch vinyl record to be personally autographed by Meryl Streep
• "Jackie" film still printed on canvas and signed by Natalie Portman
• "La La Land" 7-inch vinyl record signed by Emma Stone
• "La La Land" mini poster signed by Emma Stone
• "La La Land" Los Angeles Taschen book and "La La Land" CD soundtrack
• "Seventeen" 12-inch vinyl record and "Sign Language" photography book signed by Viggo Mortensen
• "Downton Abbey: A Celebration" book signed by the cast and the Complete Collector's Set
• "A Life in Parts" memoir signed by Bryan Cranston
• "Modern Family" pilot script signed by cast
• "Mr. Robot" jacket signed by cast and creator
• "Mr. Robot" fsociety mask signed by cast and creator
• "20th Century Women" 2017 calendar and magnets
• HBO's "The Night Of" Under Armour computer backpack
• Netflix swag bag including "Stranger Things" sweater, "Fuller House" t-shirt, OITNB candles and more
• "Dr. Who" Premium Package: Dalek Blue Tooth Speaker, DW Blue Tooth Headphones, Collector's Edition Dalek Yahtzee and Tardis Teapot or Tardis Cookie Jar
Premium Items
• Champagne Taittinger Bottle signed by 23rd Annual SAG Awards recipients
• One year home delivery of FIJI Water
• 1 Magnum Bottle Sterling Platinum