Last week, 16,000 youth from across California came together at The "Fabulous" Forum in Inglewood for WE Day, a youth empowerment event that celebrates everyday heroes and proves no one is too young to change the world.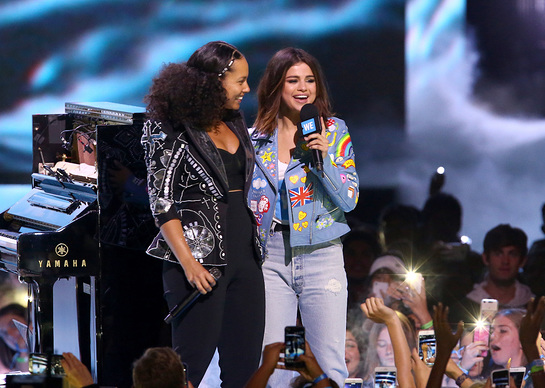 WE Day California was hosted by actress and multi-platinum recording artist Selena Gomez and featured speeches and performances by Laila Ali, Rowan Blanchard, Alessia Cara, Sabrina Carpenter, Sofia Carson, Auli'i Cravalho, Lily Collins, Laverne Cox, Bryan Cranston, Josh Gad, Tyrese Gibson, Evan Goldberg, Winnie Harlow, Jessie J, Alicia Keys, DJ Khaled, Demi Lovato, Shay Mitchell, Miss Piggy along with other Muppets including Fozzie Bear and Statler and Waldorf, Emeli Sandé, Lilly Singh, Lizzie Velasquez and more.
WE Day California, made possible by Co-Title Sponsors The Allstate Foundation and Unilever, paired a star-studded lineup with international activists and WE co-founders, Craig and Marc Kielburger. Together, they energized the crowd with unforgettable performances and motivational speeches to inspire youth to continue taking action on local and global societal issues such as bullying, clean water and poverty.
Making WE Day a true celebration of youth taking action, young people with inspiring stories joined the WE Day California lineup, including 11-year-old Ezra Frech. Born missing his left fibula, left knee and four fingers on his left hand, Ezra is an accomplished athlete, motivational speaker, and co-founder of Los Angeles-based non-profit @AngelCitySports, an organization that provides children and adults with physical disabilities the opportunity to play sports. Ezra is just one of the many young people who shared their stories to motivate their WE Day peers.
"The young people here today at WE Day California are proof that everyone has the power to create change," said six-time GRAMMY nominee, author, producer, philanthropist and internationally renowned film star, Tyrese Gibson. "I hope that by sharing words of encouragement from the WE Day stage and through the work of #TheLoveCircleFoundation, I can help these students to keep making a positive impact—because I want my daughter, and kids everywhere, to grow up in a world of respect, equality and love."
Speakers and performers at WE Day California energized the crowd through a full day of empowering educational speeches, inspirational moments and electrifying performances. A few highlights include:
• Global motivational speaker, anti-bullying activist, social media personality, author, & host of Unzipped with Lizzie Velasquez, Lizzie Velasquez, shared her story of facing bullying and the importance of focusing on self-confidence
•
• Award winning singer and songwriter, Alessia Cara, got the crowd on their feet with a performance of her hit song "Wild Thing," accompanied by International Sensation STOMP and Boogie Zone Dancers
• Actor and Entertainer, Josh Gad, World's Funniest Stand-Up Comic Bear, Fozzie Bear, and Professional Hecklers, Statler and Waldorf, learned an important lesson about bullying
You can't buy a ticket to WE Day — students from across the country earn their way by the actions they take on one local and one global cause of their choice. WE Day is free of charge to students and educators, thanks to the generous support of partners led by Co-Title Sponsors The Allstate Foundation and Unilever.
More than a one-day event, WE Day is connected to the free, educational program WE Schools. Providing schools and community groups with curriculum, educational resources and action campaigns, the program is designed to enhance a school's existing social initiatives or spark new ones. WE Schools encourages students to further their curricular learning and develop life skills for success beyond the classroom. Young people making an impact locally and globally are supported with tools to help them become real change-makers.
"Every year, more than 200,000 students from over 10,000 schools around the globe earn their tickets to WE Day through the yearlong WE Schools program, creating positive impacts in their communities," said Craig Kielburger, co-founder of WE. "WE Day California united and celebrated thousands of young leaders who are working passionately for the causes they care about most, creating sustainable change in their own backyards and around the world."
In the 2015/2016 school year, more than 875 schools and groups across California improved their communities through WE Schools, by volunteering more than 600,000 hours and raising over $825,000 in support of 615 organizations, supporting causes such as hunger, homelessness, bullying, youth advocacy, education and literacy. In addition, 82 percent of U.S. educators participating in WE Schools felt they were better equipped to teach about social justice issues through service-based learning opportunities for their students; 87 percent of educators said their students felt a greater connection to their local communities; and 77 percent of educators said the program engaged previously disengaged youth.
WE Day is supported in California by Co-Chairs Stephanie Argyros, President and CEO, Argyros Group; Mike Cahill, Executive Vice President, General Counsel, City National Bank; Magic Johnson, President of Basketball Operations, Los Angeles Lakers; and Stephanie Swedlove and Jeff Skoll, Founder and Chairman, Participant Media and Chairman of the Skoll Foundation. Nationally, WE Day is supported by Co-Chairs Mike Dobbins, Head Strategy and Corporate Development, RBC; Jane Francisco, Editorial Director of Hearst Lifestyle Group and Editor in Chief of Good Housekeeping; Steve Robinson, CEO, Reimagine; Janet Crown, Philanthropist, Crown Family Philanthropies; and Tom Wilson, Chairman and CEO, Allstate.