More than 450 guests and a bevy of celebrities filled the Beverly Hilton Hotel to support lesbian, gay, bisexual, transgender and queer (LGBTQ) students at Point Honors Los Angeles.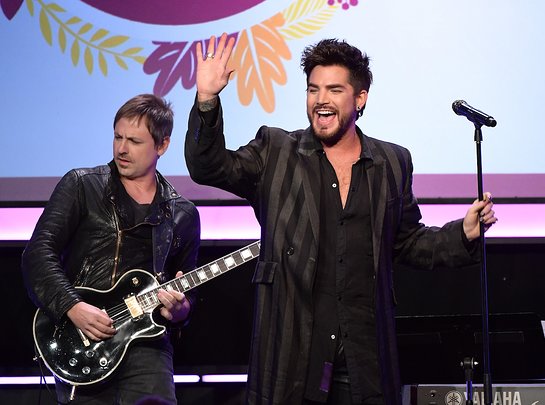 Point Foundation (Point), the evening's beneficiary, is the nation's largest scholarship-granting organization for LGBTQ students of merit. The gala evening also included an announcement by Wells Fargo of $1.8 million in continued support for Point.
At the gala, Wanda Sykes was presented with the Point Legend Award by Anthony Anderson. The award is given to an individual who has achieved greatness in their professional career and unapologetically supported the LGBTQ community. Writer, director, and producer Jill Soloway received the Impact Award, presented by Kathryn Hahn, for the significant impact Soloway has made on improving the lives of the LGBTQ community. Wilson Cruz, via video message from New York, was accorded the Point Courage Award, which recognizes those who have advocated for the future of the LGBTQ community and believe in the vision that investing in today's potential will produce a brighter tomorrow.
Comedian Michelle Collins hosted the buoyant evening, which included a special performance by Adam Lambert accompanied by a live band. Celebrity attendees included Tyler Alvarez, Hayden Byerly, Jay Duplass, Judith Light, Trace Lysette, Benjamin Patterson, Brandon Stansell, Jacob Tobia, JJ Totah, and Rain Valdez. Previous honorees, Neal Baer, Greg Louganis, Pete Nowalk, and Adam Shankman, also attended the gala.

"Thank you to tonight's honorees for inspiring our scholars and to all the celebrities who joined us to champion equality in education for LGBTQ students," said Jorge Valencia, Executive Director and CEO of Point Foundation.
For the Point scholarship recipients in attendance, the evening featured an especially encouraging demonstration of support when representatives from Wells Fargo presented Point with a check for $1.8 million. The funding continues the company's support of Point's new Community College Scholarship program, scholarships for Point Scholars in four-year and advanced degree programs, and Point's leadership development programs and conferences.
"Wells Fargo is thrilled to continue our support for Point Foundation, especially the new Community College Program," said Gigi Dixon, Director of Strategic Partnerships for Wells Fargo. "This program will fill critical gaps and allow aspiring LGBTQ students to reach their educational goals and achieve their full potential. This impacts not just the scholars themselves, but also their families and communities."
"For more than a decade Wells Fargo has joined with Point Foundation to help LGBTQ students work toward earning their higher education degree," said Jorge Valencia, Executive Director and CEO of Point Foundation. "Wells' significant investment in the LGBTQ community is also an important catalyst for encouraging the generosity of other donors, as we saw at Point Honors, with hundreds of thousands raised in additional support for LGBTQ students."