The Duke of Cambridge recently visited 'Campaign Against Living Miserably' (CALM), a charity dedicated to preventing male suicide, to lend his support to their 'Best Man Project'.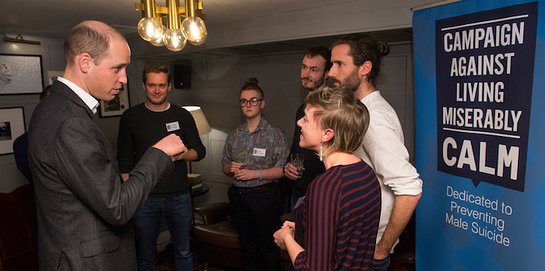 On arrival His Royal Highness met staff, volunteers and supporters from CALM, before joining a group of men who are taking part in filming 'Best Man Project' videos, where they chat about the importance of friendship and issues around mental wellbeing.
CALM delivers services for men in crisis or distress, supporting people around them and those bereaved by suicide. You access their support HERE.
The Best Man Project was launched by CALM to promote the idea that you don't have to wait for a wedding to be a great friend, and because male friendships can be instrumental in men looking after their mental health.
With male suicide the single biggest killer of men under the age of 45 in the UK and social isolation becoming an issue, having good friends that recognise the signs of mental illness is increasingly important.
The Duke is a keen mental health campaigner, and in 2016, together with The Duchess of Cambridge and Prince Harry, he created Heads Together Campaign, which created a national conversation about mental health.
Retired footballer Rio Ferdinand and friend Jamie have been making a video for the Project – they previously took part in a Heads Together #oktosay video.
His Royal Highness then joined a roundtable discussion, chaired by Ronan Kemp, where participants had the chance to share what they've been through and why male friendship is important to mental wellbeing.
Participants included Carl Anka, who is a writer, podcaster and journalist who writes about mental health – the CALM helpline helped Carl in his darkest hour on more than one occasion.
CALM also campaign for long-term culture change to redefine and open up masculinity, so that over time fewer men will need support at crisis point.
Source: Royal.uk