Last week, GLSEN, the leading education organization working to create safe and inclusive K-12 schools for LGBTQ youth, hosted its 2018 Respect Awards – Los Angeles at the Beverly Wilshire Hotel.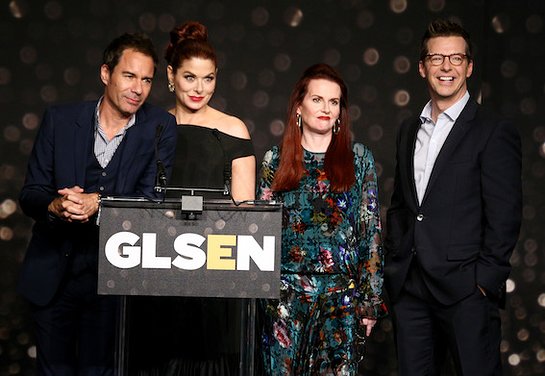 The event, which raised over $1.5 million (not including the Berlanti Family Foundation gift), honored actress and activist Yara Shahidi, Will & Grace co-creators and executive producers Max Mutchnick & David Kohan, actress, producer, and activist Ellen Pompeo, Elizabeth Gabler, President, Fox 2000 Pictures, accepting on behalf of Twentieth Century Fox Film, and Student Advocate of the Year Ruby Noboa.
A stand-out moment of the evening came when Greg Berlanti and Robbie Rogers, as executives from The Berlanti Family Foundation, announced that they will give the foundation's first gift of $1 Million to support GLSEN's efforts. The Berlanti Family Foundation is dedicated to improving the lives and personal stories of all LGBTQIA people and their straight allies through education, the arts, medicine and other social services. The foundation will make additional announcements in the coming year, but felt that the work that GLSEN was doing merited this inaugural donation!
GLSEN Executive Director Eliza Byard said of the announced donation, "Greg Berlanti and Robbie Rogers are making a transformative gift to GLSEN at a critical time in our history. I cannot thank them enough for the opportunity to take on today's urgent challenges while building for GLSEN's future. I have no doubt that their gift will change and save lives here and everywhere, and inspire others to join the fight. Thank you, Greg and Robbie."
The evening was filled with special presentations and performances, as each honoree was recognized for their outstanding work and activism on behalf of the LGBTQ community. Former Starbucks Executive Chairman Howard Schultz addressed the crowd, stressing the importance of encouraging diversity and inclusion in the workplace, before welcoming the stars of Will & Grace to the stage. The four actors gave a hysterical and heartfelt introduction to their show's creators, who accepted the Champion Award. Grey's Anatomy creator Shonda Rhimes praised Inspiration Award recipient Ellen Pompeo for her fearless advocacy work on behalf of so many marginalized communities of people. Pompeo accepted her award with a poignant and emotional speech, calling out the names of those whose lives have been "senselessly taken due to an absence of love," and reiterating the need to teach and love our children. Storm Reid welcomed her friend, Gamechanger Award honoree Yara Shahidi, to the stage, commending her for using her platform to enact social change. Shahidi delivered an inspiring acceptance speech, thanking GLSEN for encouraging a world of equality for everyone. Elizabeth Gabler accepted the Visionary Award on behalf of Twentieth Century Fox Films, taking the opportunity to thank Greg Berlanti for creating the beautiful film that was "Love, Simon." There was no shortage of these heartfelt moments, as additional presenters including Matt Bomer, Jeffrey Katzenberg, Katherine Langford, Ryan Murphy, Billy Porter, Nick Robinson, and MJ Rodriguez, all took to the stage to praise their friends, colleagues, mentors, and allies, who have continued to spread a message of love and acceptance through both their personal and professional lives. As always, the students were the center of the evening, speaking about the remarkable work that they've done to create a safe environment at their schools, launch Gender and Sexuality Alliances, and much more.
The room was bursting with prominent members of the LGBTQ community and allies alike, including Honorary Co-Chairs Robbie Rogers, Simon Halls, and Connor Franta, Co-Chairs Jim Fielding, Dave Karger, Patrick Moran, Chip Sullivan, and additional special guests including Shannon Beveridge, Logan Browning, Gloria Calderon Kellett, Charlie Carver, Joan Collins, Diego di Marco, Tommy Dorfman, Kat Graham, Olivia Jordan, Sasha Lane, Norman Lear, Arturo Mesquite, Our Lady J, Judy Reyes, Roselyn Sanchez, Cammie Scott, Shangela, Meher Tatna, Eric Winter, and many more.
National Student Council members attending included Anais Canepa, Brianna Davis, JP Grant, Sameer Jha, Sayer Kirk, Darid Prom, Imani Sims, and Kian Tortorello-Allen.
Earlier this week, GLSEN released its National School Climate Survey, the latest and the largest body of research on the experiences of LGBTQ youth in schools, including the extent of the challenges that they face at school and the school-based resources that support LGBTQ students' well-being. The survey has consistently indicated that specific school-based supports are related to a safer and more inclusive school climate, including: supportive educators, LGBTQ-inclusive curriculum, inclusive and supportive policies, and supportive student clubs, such as Gay-Straight Alliances or Gender and Sexuality Alliances (GSAs). For the first time in years, new data shows progress on safe schools for LGBTQ youth has slowed down, making the work that GLSEN is doing even more imperative.
The GLSEN Respect Awards, introduced in 2004 and held annually in Los Angeles and New York, showcase the work of students, educators, community leaders, and corporations who serve as exemplary role models and have made a significant impact on the lives of lesbian, gay, bisexual, transgender, queer, and questioning (LGBTQ) youth. Past honorees include Kerry Washington; Jessica Biel and Justin Timberlake; Marilyn & Jeffrey Katzenberg, Julia Roberts and Danny Moder; Zendaya; Shonda Rhimes, and Carla Gugino.
For nearly three decades, GLSEN has led the way on LGBTQ issues in K-12 education through ground-breaking original research, innovative program development, educator training, student organizing, and targeted state and federal advocacy. With the development of educational resources, direct engagement of youth and educators, and GLSEN national programs like Day of Silence, No Name-Calling Week, and Ally Week, GLSEN has seen the impact of its work.