Celebrities including Bon Jovi, Drew Barrymore, Florida Georgia Line, Ludacris, Luke Bryan, Reba McEntire, Twenty One Pilots and Vanna White will be wearing and sharing a T-shirt with a simple yet compelling message as they team up with St. Jude Children's Research Hospital to kick off a new year of This Shirt Saves Lives.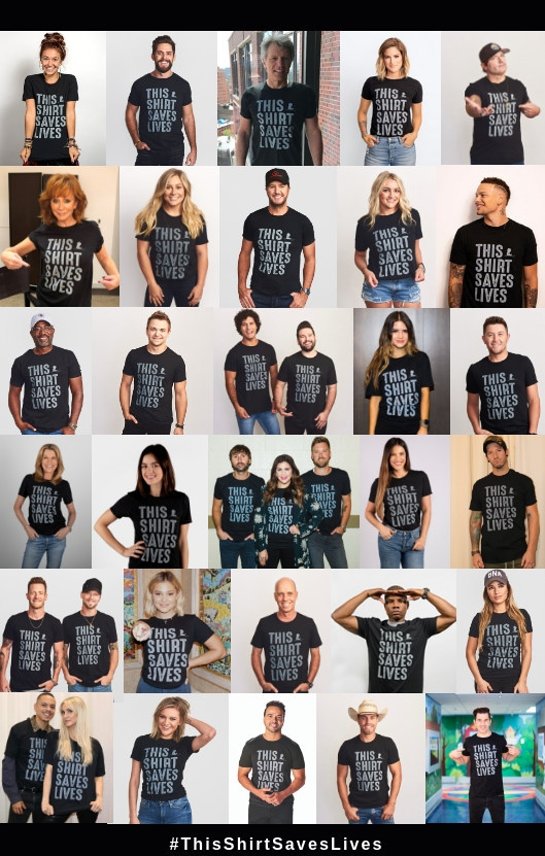 The national #thisshirtsaveslives campaign that caught on through social media has inspired a widespread giving movement to support the lifesaving work of St. Jude.
The movement has grown to encompass hundreds of celebrities, influencers and radio stations as well as thousands of supporters who took to their social channels with #ThisShirtSavesLives images and messages. So far, the effort has reached tens of millions of people across digital channels and helped lead to more than 90,000 monthly donors who have gotten behind the St. Jude mission: Finding Cures. Saving Children.
Once again, the campaign will be supported by St. Jude radio partners to cover more than 150 markets in December. Nationally syndicated personality Bobby Bones will lead the way with a live on-air event December 6-7. The on-air push will coincide with a social push as artists and influencers share their This Shirt Saves Lives photos.
"Over the years I've worked with St. Jude, I never cease to be amazed by all of the good that they do," said White. "Every time I visit, I hear about new initiatives and stories from patients that blow my mind and solidify that my support is in the right place."
Others joining White for the launch are Ashlee Simpson Ross and Evan Ross, Ashley Tisdale, Brett Eldredge, Dan + Shay, Darius Rucker, Dustin Lynch, Scott Hamilton, Hunter Hayes, Journey, Kelsea Ballerini, Lady Antebellum, Lauren Daigle, Luis Fonsi, Scotty McCreery, Shawn Johnson, The Avett Brothers, Thomas Rhett and many others.
"Such a simple gesture as wearing a T-shirt has made a giant impact on the lives of children facing cancer and other life-threatening diseases," said Richard Shadyac, Jr., President and CEO of ALSAC, the fundraising and awareness organization for St. Jude Children's Research Hospital. "We are incredibly grateful for our supporters, including our many celebrity friends who have helped make This Shirt more than just a fashion statement and turned it into a true movement for good."
St. Jude officially launched this year's campaign with a star-studded concert in Nashville that featured performances by several country music artists and the talents of top fashion designers who helped to unveil the new version of the shirt, which is black with bold white lettering that says "This Shirt Saves Lives."
To join the This Shirt Saves Lives movement by becoming a St. Jude monthly donor, visit: thisshirtsaveslives.org.