Rock and Roll Hall of Fame inductee Jackson Browne, multi-Grammy award-winner Bonnie Raitt, Grammy award-winning blues artist Joan Osborne, Mickey Hart and Friends and Pura Fe & Cary Morin plus host Wavy Gravy, will celebrate the Berkeley-based Seva Foundation on January 12th at a benefit concert at the Fox Theatre in Oakland called Sing Out for Seva.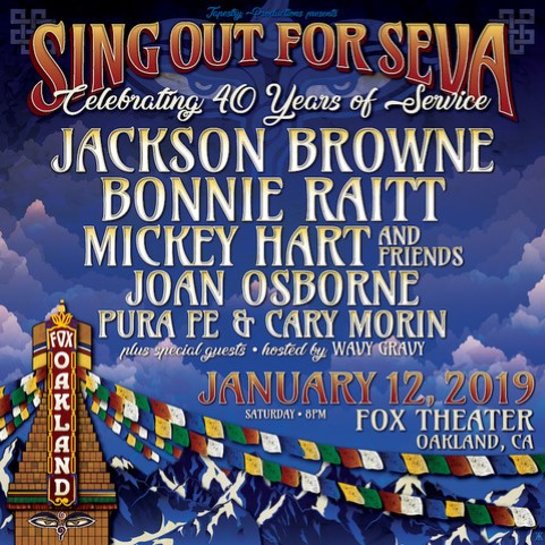 This event marks four decades of benefit concerts performed by celebrity artists since Seva was founded forty years ago. By expanding access to eye care in developing nations, Seva is leading the global charge to eliminate avoidable blindness within our lifetime.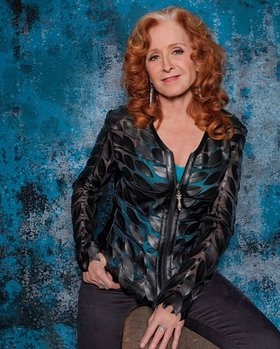 Seva's first benefit concert was in 1979, with the Grateful Dead at the Oakland Auditorium. At that same time Seva organized the first nationwide assessment of blindness in Nepal.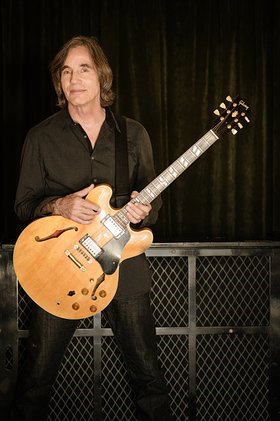 The idea of supporting Seva's mission through benefit concerts spread among leading musical artists, and before long Seva benefit concerts were being held with icons including Joan Baez, Jackson Browne, David Crosby, Country Joe McDonald, Graham Nash, Bonnie Raitt, Steven Stills, Stevie Ray Vaughn, Kate Wolf and many others.
"It has always struck me as magical that we could make music on one side of the world and people on the other side of the world could have their eyesight restored," said Jackson Browne.
By 1990, Seva benefit concerts had been held in Toronto, Canada, Austin, Texas, Eugene, Ore., and in New York, as well as in California. The list of musicians and other cultural icons who showed up to support Seva was extensive. At some shows more than 20 artists performed, such as in 1994 at the Masonic Center in San Francisco, when "A Musical Reunion of Old Friends" united Richie Havens, Hot Tuna & Jack Casady, Arlo Guthrie, Pete Sears and special guest Bob Weir with more than 15 other well-known musicians.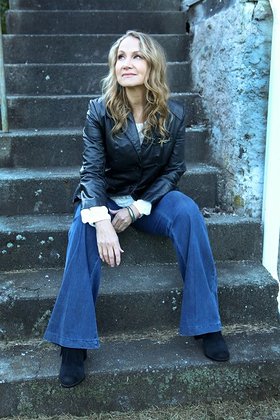 "Seva has given so much help to so many people for so many years – such a wonderful example of love in action," said Bonnie Raitt.
Seva concerts haven't just featured music. Everybody's favorite clown, the counter-culture icon Wavy Gravy, has been an organizer and emcee at all of Seva's events.
"These concerts provide the opportunity for audiences to turn their compassion into action," Wavy Gravy has said. "With each ticket sold, Seva can provide a cataract surgery to someone in need."
Another cultural icon and Seva co-founder, Ram Dass, an Honorary Lifetime Member of Seva's board of directors, has appeared and been honored at Seva benefit concerts. A philosopher and spiritual leader, Ram Dass helped to bring yoga and meditation to the Western world. From Seva's founding, he infused the organization with his philosophy of deep compassion and loving awareness, concepts that are embodied by the organization's name, "Seva," a Sanskrit word meaning selfless service. Ram Dass was honored at a Seva benefit concert last year in Hawaii that featured Jackson Browne with Greg Leisz, Joan Baez and Krishna Das, with host Wavy Gravy.
This past summer, Seva reached out to their next wave of supporters when Rising Appalachia, Dead Winter Carpenters and The Sam Chase & The Untraditional performed a benefit concert at the UC Theater in Berkeley.
To date, Seva has restored sight to more than five million people and has provided eyecare services to at least 40 million people. In 1981, Seva helped pioneer the use of intraocular lenses in the developing world, making it possible to deliver high-quality cataract surgeries for $50. Seva, now celebrating its 40thanniversary of transforming lives through restoring sight, expands access to vision care in underserved communities in more than 20 countries.
Wavy Gravy is still around and as active, and goofy, as ever with Seva today. He'll be at the January 12 benefit concert. The event will feature Browne, Raitt, and Osborne, along with an as-of-yet unnamed special guest. VIP tickets are available at seva.org. All proceeds will go directly to Seva's work.
Seva concerts have raised millions of dollars to help improve sight for those in need over the years. For tickets and more information, visit www.seva.org.