The Hollywood Reporter hosted the inaugural "Raising Our Voices" luncheon, sponsored by The Golden Globes, Wallis Annenberg GenSpace, and East West Bank at the Audrey Irmas Pavilion on Wednesday, May 31.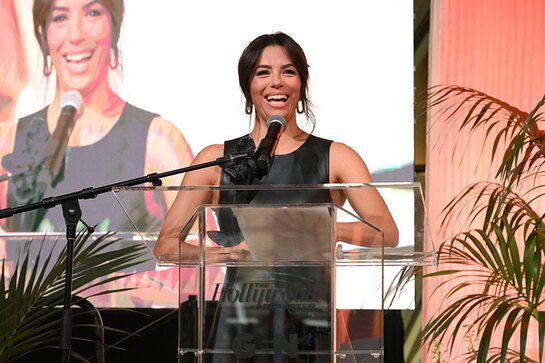 "Raising Our Voices" brought together the industry's most influential and inspiring executives, storytellers and thought leaders for a groundbreaking series of discussions on the state and future of diversity, equity, inclusion and accessibility in Hollywood.
During the program, keynote speaker Taika Waititi (Academy Award-winning screenwriter (JoJo Rabbit)), Emmy Award-nominated television producer (What We Do in the Shadows, The Mandalorian), actor and filmmaker) was introduced by Bird Runningwater (Executive Producer and Activist). During his speech, Waititi spoke about the journey of moving forward to foster more diversity in the entertainment world and his beliefs on the best practices for incorporating representation within movies and film. He said, "Instead of 'diversification of the screen,' the thing that I really want to see and what I strive for and hope for is a term coined by my mentor Merata Mita, who is the first Indigenous and first female filmmaker to come out of New Zealand." Waititi added, "The term she loved to use was 'decolonizing the screen.'" In advocating for organic representation, Waititi continued, "Let us figure out the structure of the story in our own way from our own experience."
The event also recognized actor, director and producer Eva Longoria (Flamin' Hot, Eva Longoria: Searching for Mexico) and actor-producer Niecy Nash-Betts (The Rookie: Feds, Dahmer — Monster: The Jeffrey Dahmer Story) as the "2023 Trailblazer" honorees. Eva Longoria was introduced by the stars of her movie Flamin' Hot, Annie Gonzalez and Jesse Garcia. Longoria took to the stage and said, "I want cleared paths to be paved with the stones of the successes of my sisters in this industry so that the women who come behind us can just walk down this paved path." Niecy Nash-Betts was introduced by her spouse, actor and singer Jessica Betts. Upon accepting the honor, Nash-Betts said, "I appreciate so much being accepted, being loved, not judged for who I love and how I love." She added, "I am thankful that I could be an inspiration and, for some, aspiration."
Additional key moments from the program included:
Sharon Stone opened the program and discussed her own experience in Hollywood following a series of medical issues that completely changed the way she was able to work. She continued on in her speech to describe how she has devoted her time and energy to fighting for more inclusion for all situations.
Helen Hoehne (President,

HFPA

/Golden Globes) called Nic Novicki (Founder/Director, Easterseals Disability Film Challenge) to the stage and presented him with a $20,000 donation for the Easterseals Disability Film Challenge. Easterseals Disability Film Challenge filmmaker Chrissy Marshall and actor Joci Scott also joined on stage to accept the donation.
Latasha Gillespie (Global Head of Diversity, Equity, Inclusion and Accessibility, Amazon Studios, Prime Video,

MGM

and Freevee) led the "Inside Hollywood's Shifting Power Structures" panel, which included questions posed to DeVon Franklin (Producer, Flamin' Hot, President and

CEO

, Franklin Entertainment), Eryn Brown (Partner, Entertainment 360), Henry R. Muñoz

III

(Owner and Chairman, Funny or Die), Lori McCreary (Producer and

CEO

, Revelations Entertainment) and Neil Phillips (Chief Diversity Officer,

HFPA

/Golden Globes).
Gloria Calderón Kellett (Creator/Executive Producer, With Love and The Horror of Dolores Roach, Prime Video) led the "The State of Inclusion in Storytelling" panel, which included questions posed to Amber Midthunder (Actor, Prey, 20th Century Fox), Andraéa LaVant (President and Chief Inclusion Consultant, LaVant Consulting, Inc.), Leo Sheng (Actor, The L Word: Generation Q, Showtime), Sophia Nomvete (Actor, Lord of the Rings: The Rings of Power, Prime Video) and Sydney Baloue (Writer/Producer, Legendary,

HBO

Max).
Sharon Stone also closed the program calling out to the females within the room and said, "Everybody's on strike, and ladies, I've played over 100 parts, not one of them was written by a woman." Stone added, "Ladies, if you're not in the Writer's Guild, why don't you write something and have a great time."
As previously announced, the event also coincided with publication of The Hollywood Reporter's "Forces for Change Power List." The 2023 list, which includes Waititi and Longoria, is an annual recognition of individuals in entertainment whose work directly impacts and creates jobs and opportunities for artists, executives and others from historically underrepresented communities.
Additional notable talent in attendance included Corbin Reid, Jeanne Yang, Jeannie Mai Jenkins, Mayan Lopez, Quinta Brunson, and more.