By Tim Saunders on
Singer Annie Lennox is one of a group of stars who supports a charity initiative that funds projects that have a positive impact on the health and well-being of young people world-wide.
Bottletop raises funds through fashion and music, focusing on helping small, dynamic education initiatives, with a particular emphasis on sexual and reproductive health education. One of these fundraising initiatives is a beautiful ring pull bag crafted by 24 people in Salvador. Each bag is handmade by linking hundreds of recycled ring pulls together in a crochet formation.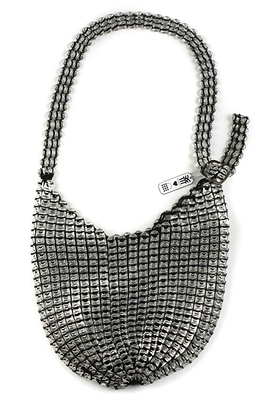 "When I first saw the bags I was really blown away by them," said Lennox. "At first glance you don't realise what they're made from… they just look beautiful and eye catching. I love the fact that they are not only created from recycling , but they are creating a source of skillful self sufficiency within communities."
Set up in 2002 by Cameron Saul, Bottletop has garnered the support of celebrities such as Bill Clinton, Paris Hilton, Bob Geldof, Peaches Geldof, Angélique Kidjo, Youssou N'Dour and many more.
To purchase one of the ring pull bags – or even a ring pull belt – and help the communities that make them, click here. For more information about Bottletop, visit their website.