Many cups will runneth over as 7-Eleven, Inc. aims to donate more than $2 million to charities via "7-Eleven Coffee Cup With A Cause" in 2010.
Because nurturing good community relations is important to 7-Eleven and its franchisees, the company is launching a charity-focused coffee campaign this month. Throughout 2010, 7-Eleven will introduce limited-edition 20-oz coffee cups designed by entertainment and sports celebrities to be sold in 7-Eleven stores nationwide. Proceeds from cups sold will benefit the featured celebrity's charity of choice. Cups can be filled with any 7-Eleven hot beverage including coffee, tea or hot chocolate.
"Cup With A Cause is one of our most exciting programs," says Rita Bargerhuff, 7-Eleven's chief marketing officer. "We've turned our coffee cups into canvasses, and celebrities are creating artwork for our program that allows customers to directly support charities and causes that make dramatic changes to so many people's lives."
Nicole Richie, Joel Madden and Benji Madden will kick off the program. Proceeds from their cup, featuring a custom-designed drawing representing their cause, will support The Richie Madden Children's Foundation. The stars will join 7-Eleven representatives in early February, at a Beyond Shelter Neighborhood Resource Center in South Central Los Angeles to formally announce their partnership and cut the ribbon for the facility's new playground for young children.
"7-Eleven's 'Coffee Cup with a Cause' program and its donation to The Richie-Madden Children's Foundation will help us provide a wonderful and safe atmosphere for children and their families at the new Beyond Shelter playground," said Nicole Richie.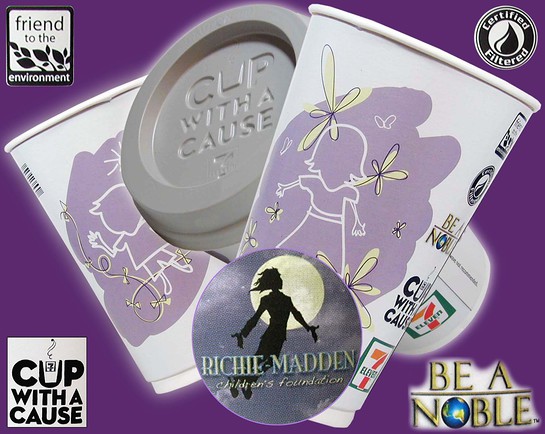 While 7-Eleven is providing a guaranteed $250,000 minimum donation to each charity, donations could reach as high as $300,000, depending on the number of cups sold. Consumers can drive donations through the purchase of these celebrity-designed cups.
7-Eleven's Coffee Cup With a Cause program was first introduced at the 2009 NOBLE AWARDS – an event supported by www.LookToTheStars.org – where Joel Madden was honored for his work with The Art of Elysium. The NOBLE AWARDS is a celebration that honors charities, celebrities and the tremendous work that they do. For more information about THE NOBLE AWARDS, click here.
The Richie-Madden Children's Foundation custom cups are available while supplies last at 7-Eleven, Inc.'s franchised and company-operated stores across the U.S. For more information about this program, visit: www.cupwithacause.org, www.facebook.com/7Eleven and www.twitter.com/7Eleven.