By Myrlia Purcell on
With years of charity experience under her belt, Malaak Compton-Rock's new book containing tips for creating a better world is now available.
If It Takes a Village, Build One: How I Found Meaning Through a Life of Service and 100+ Ways You Can Too offers advice on how to find the right volunteer opportunity and how to get kids involved in a life of service, as well as offering tips on how to research charities and how to start a nonprofit.
Malaak, wife of Chris Rock, is well-versed in the field of philanthropy. She spent 3 years working for UNICEF as head of the newly created Special Events and Celebrity Relations Department before founding her own charity, styleWORKS, an organization that provided comprehensive grooming services, such as hair styling, make-up application, skincare services, clothing, accessories, and image consulting to women moving from welfare to work.
She also created and manages the Champions for Children Committee, a group of well-known individuals committed to raising awareness about the signs and prevention of child abuse.
Together with her husband, Compton-Rock runs The Angelrock Project South Africa, a trust that provides assistance to orphaned and vulnerable children, granny-led households and people living with HIV/AIDS in Diepsloot, a poverty-stricken shanty town in Johannesburg, South Africa. They also support Bushwick Salvation Army Community Center in Bushwick, Brooklyn.
Her current focus is on the Angel Rock Project, an on-line e-village promoting volunteerism, social responsibility, and sustainable change, and Journey for Change: Empowering Youth Through Global Service, which takes at-risk kids from Bushwick, Brooklyn, on a two week service mission to South Africa to volunteer and experience the world.
All of this knowledge and experience come together in her book, allowing her to pass on information that can help change the world.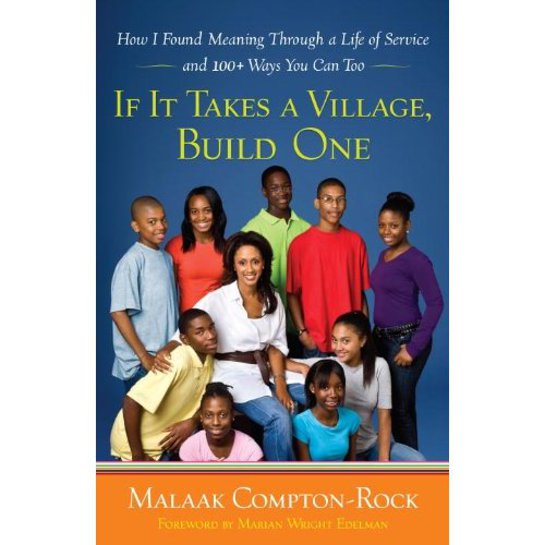 "Malaak Compton-Rock is changing the world! Her focus on helping young people become all that they can be is a stunningly simple blueprint for what all of us can do. If It Takes a Village, Build One is a must read if you want to make real change in your world."
—Soledad O'Brien, CNN anchor and special correspondent