To celebrate Jerry Lewis' Labor Weekend telethon for the Muscular Dystrophy Association, charity auction site BiddingForGood.com has some fantastically massive celebrity items going under the hammer.
Here is a selection of what is on offer:
Celebrity Signed Harley Gas Tank
This authentic orange Harley-Davidson gas tank was autographed by bands that performed during Summerfest 2008, including Sevendust, Anew Revolution, Flobots, Daryl Stuermer, Blondie, Bootsy Collins, Finger Eleven, Tim McGraw and the Jonas Brothers.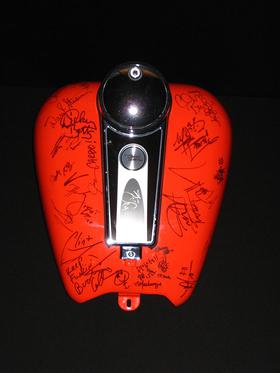 Soap Opera Cruise to Mexico with 16 top actors
Sixteen of today's hottest soap actors will cruise the high seas with their most devoted fans. On January 27th, 2011, prepare to sail out of Miami for four fun-in-the-sun days stopping in charming Key West and Cozumel, Mexico before returning on January 31st.
This fantasy vacation is the perfect opportunity to create unforgettable memories spending personal time with your favorite soap stars aboard the "Soap Cruise Fourth Voyage." Not only will you receive photos, hugs and autographs, but you will be singing karaoke and dancing disco with the stars. Other activities include a beach party at Senor Frogs in Cozumel, multiple meet and greets, soap star talent night, "behind the scenes" workshop, and scene acting sessions where fans and actors use real scripts from their shows. Pack your bags and prepare for the trip of a lifetime!
The highest bidder will receive one cabin for two guests (including port charges, taxes and gratuity), entrance into the VIP breakfast with the actors, and One on One Toast & Talk with Brandon Barash and friends.
Visit "General Hospital" with Brandon Barash (Johnny Zacchara)
You and a guest will have the opportunity to visit the set of ABC's "General Hospital" with star Brandon Barash, who plays Johnny Zacchara. Plus, Brandon will treat you both to lunch. This is a once-in-a-lifetime day you'll never forget!
Neal McCoy Autographed Blue Jeans
Perfect gift for any Neal McCoy Fan! These autographed custom-made blue jeans (31 X 44) have been worn by Neal!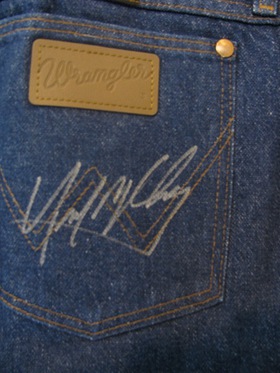 Joan Rivers Collection: Fashionably Sporty Watch
Want to be sporty with style? Bid now on this orange fashionably sporty watch with dazzling sparkle donated by Joan Rivers.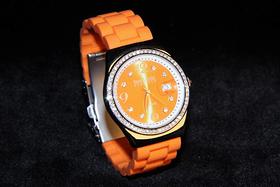 There are also items donated and signed by Jerry Lewis, Reba McEntire and many more.
The auction runs until September 16 and can be accessed here.