On Friday, the Make-A-Wish Foundation of America announced the recipients of its 21st annual Chris Greicius Celebrity Awards, including singers, actors and sports heroes from across the country.
The Foundation selected the honorees in recognition of their exceptional dedication to helping grant the wishes of children with life-threatening medical conditions.
Jonas Brothers – Kevin, Joe and Nick have brought smiles to the faces of more than 130 young fans whose wishes they have granted around the world in just three years. The musical trio has been host to wish kids at concerts, award show rehearsals, show sets and other exclusive locations. Their enthusiastic meetings with wish kids backstage, special tours and

VIP

seats at concerts have provided unforgettable experiences for kids from three continents.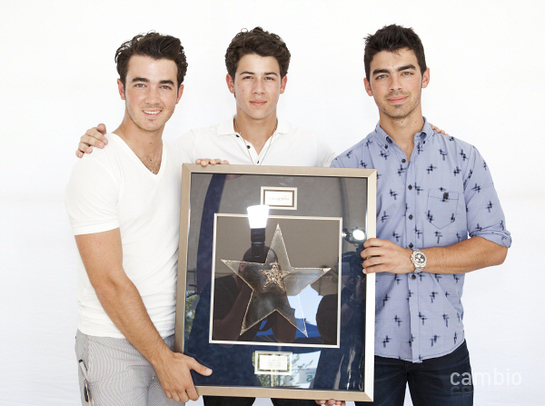 New York Yankees – No matter what team they support, baseball fans have to tip their caps to the Yankees for the joy they bring to kids who wish to meet them. The Major League Baseball club entertains about 30 wish kids each year, enabling them to meet players in the dugout before games, tour iconic Monument Park, go behind the scenes at Yankee Stadium, and watch their favorite players in action on the field from

VIP

seats. Yankees manager Joe Girardi also thrilled the six wish kids who attended the 2010

MLB

All-Star Game in Anaheim with a private meet-and-greet after the pregame press conference.
Corbin Bleu – Bleu has granted 14 wishes to meet him and also participated in dozens more wishes through his role in the "High School Musical" movies. Last year, he went to extraordinary lengths to grant the wish of a 5-year-old Michigan boy, Carson. When Carson became too sick to go to California for his wish to meet Bleu, the actor traveled to Michigan and surprised him at home, spending several hours with the young cancer patient.
Dennis Anderson – Driver of the larger-than-life Grave Digger monster truck, Anderson has shown an equal-sized devotion to making children's wishes come true. He frequently spends an entire afternoon with kids who wish to meet him and his truck, having lunch, giving garage tours and treating them to souvenirs from the Digger's Dungeon® store. Many wish families and volunteers have expressed their appreciation for Anderson's outsized generosity toward wish kids.
Dick Vitale – Vitale, ESPN's Hall of Fame college basketball analyst, is receiving this year's Industry Icon Award for his long-standing support of the Make-A-Wish Foundation. Vitale has enhanced kids' wishes at the Final Four and other sporting events, sharing his experiences as a college and

NBA

coach and as college basketball's most popular broadcaster for the past 30 years.
"The recipients of this year's Chris Greicius Celebrity Award have been unbelievably generous with their time in creating meaningful experiences for our wish kids," said David Williams, Make-A-Wish Foundation of America president and chief executive officer. "The energy they devote to granting each wish is remarkable and creates unforgettable memories for every wish kid. This award expresses our appreciation to them on behalf of these kids, who benefit so much from the hope, strength and joy a wish experience provides."
Started in 1990, the Chris Greicius Celebrity Award is named in honor of the 7-year-old boy whose wish to be a police officer inspired a group of caring volunteers to fulfill his dream in 1980 and later create the Make-A-Wish Foundation.
The Foundation's Celebrity and National Sports Program team manages the wishes of children who ask to meet their favorite TV or movie star, musician, athlete, entertainment personality or other public figure. This past fiscal year, the Make-A-Wish Foundation fulfilled more than 900 celebrity and national sports-related wishes, about 6 percent of the nearly 13,500 wishes granted to children with life-threatening medical conditions nationwide.
About the Make-A-Wish Foundation: The Make-A-Wish Foundation grants the wishes of children with life-threatening medical conditions to enrich the human experience with hope, strength and joy. Founded in 1980 when a group of caring volunteers helped a young boy fulfill his dream of becoming a police officer, the Foundation is one of the world's leading children's charities, with 64 chapters in the United States and its territories. With the help of generous donors and nearly 25,000 volunteers, the Make-A-Wish Foundation grants a wish every 40 minutes and has granted more than 195,000 wishes in the United States since its inception. For more information about the Make-A-Wish Foundation, visit wish.org and discover how you can share the power of a wish®.