Tennis legend Billie Jean King and music superstar Sir Elton John are teaming up for their annual charity event — the 18th annual WTT Smash Hits presented by GEICO on November 15, 2010 at the Bender Arena at American University in Washington, D.C.
This star studded event will raise money for the Elton John AIDS Foundation and local Washington, D.C. Area AIDS charities.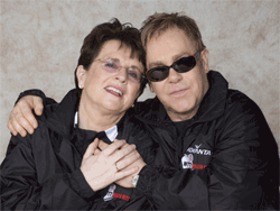 Billie Jean King and Elton John will each captain a team composed of tennis champions Andre Agassi, James Blake, Stefanie Graf, Anna Kounikova, Martina Navratilova, Rennae Stubbs, Mark Knowles, Jan-Michael Gambill, and more who will play the World TeamTennis format.
In 2009, Elton John won his 9th overall Smash Hits 16 -13 as Tommy Haas defeated Andy Roddick 5 – 2 in the final set. Despite a strong showing by Team King, Tommy Haas was just too much as he won all three of his sets for Team John. Even though it did not count towards the overall match score, Elton John and Serena Williams defeated Andy Roddick and Anna Kournikova 4 – 3 in a celebrity match to open the night.
Last year's event raised $640,000 for the Elton John AIDS Foundation and AIDS charities serving the Greater Baton Rouge area. Smash Hits has raised more than $9 million for EJAF and various local AIDS charities since 1993.
Tickets are now on sale for this star studded event!