Barenaked Ladies are teaming up with rock CAN roll to beat hunger!
Fans are asked to bring a healthy and nutritious non-perishable food donations to their November 13 show at The NYCB Theatre at Westbury!
The NYCB Theatre at Westbury has been a great supporter and friend to rock CAN roll from it's inception. rock CAN roll volunteers have been on site accepting donations at every show for the past four years. To date, rock CAN roll has delivered over 100,000 healthy and nutritious food items and basic necessities, restocking the shelves of emergency food agencies.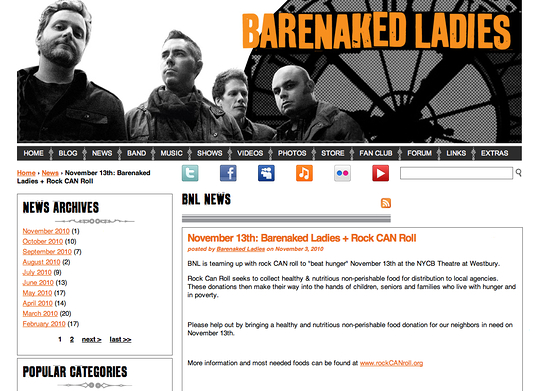 Rock CAN roll is a fast quick and easy way to help those in need! By working together, we CAN beat hunger!
Visit the website to see how you CAN support the organization. Train, Gregg Allman, Bret Michaels, Crosby, Stills and Nash and Maroon 5 are just a few artists that have also teamed up with the organization! The rock CAN roll organization is always looking for new collaborators, volunteers, supporters and friends to help in this quest to beat hunger.
Rock CAN Roll, Inc., is a volunteer, 501c3, non-profit, hunger relief and think tank whose mission is to be a source that CAN continually restock the shelves of local emergency food agencies. Rock CAN Roll collaborates with rock concerts, schools, corporations and private individuals to collect healthy and nutritious and non-perishable food (and basic provisions) for distribution to local agencies and into the hands of children, seniors and families who live with hunger and poverty.