By Tim Saunders on
A host of some of rock music's legendary guitarists and singers have signed a special guitar for a celebrity charity auction later this month in London.
Queen's Brian May and Pink Floyd's David Gilmour have added their autographs to those of Jimmy Page, Keith Richards, Roger Daltrey, Paul Weller, Eric Clapton and Gary Moore on the PUP AID Epiphone Casino Guitar donated by Liam Gallagher, which will go under the hammer at Bonham's auction house on December 15.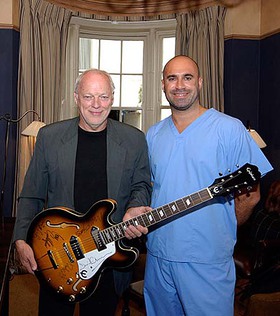 The PUP AID auction is the brainchild of TV vet Marc Abraham, and will benefit the Kennel Club Charitable Trust, the Dogs Trust and the Oldies Club – a charity for rehoming aging dogs.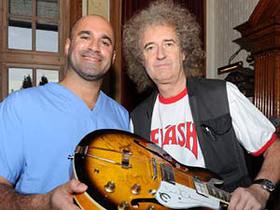 "I'm so thankful to Epiphone for starting what's been quite a mad journey, and truly honoured to have met some of the most influential musicians and heroes in rock history who have supported this camp," said Marc Abraham. "Puppy farming is a horrific practice that must be stopped. Sadly local authorities and dog welfare organizations are often unable to prevent this battery farming of dogs and so the responsibility lies with the British dog-loving public to stop buying these farmed pups altogether and end the demand forever.
"Anyone considering buying a dog should never buy from pet shops or online without meeting the owner, but always consider adopting from their local rescue shelter instead. If you're determined to buy a puppy please always see the pup interacting with its mother and contact the Kennel Club's list of Accredited Breeders for the healthiest pups which will share long and happy lives with you."
For more information on PUP AID campaign and PUP AID 2011, or for tips on choosing a dog, visit www.marcthevet.com. To view the PUP AID guitar and the Bonhams catalogue, go to www.bonhams.com.
Photo by Julia Claxton, via Gibson.com