Here's a couple of Valentine's Day gift ideas courtesy of Demi Moore and Ashton Kutcher – with proceeds going to a great cause.
The celebrity couple have collaborated with the amazing Jack Vartanian to create a collection of necklaces in the shape of handcuffs inspired by the DNA logo to raise awareness about the reality of child sex slavery. 50% of sales will be donated the DNA Foundation.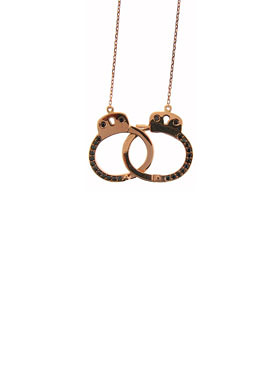 The necklaces can be purchased here.
Ashton is also selling the house he built with his father at the time he was starring in That 70's Show, and you can tour it. Nestled in Laurel Canyon – not far from Mulholland Drive – the house is a beauty with a pool, spa and inspired landscaping.
100% of the tour's ticket price will go to the DNA Foundation. Tours will take place on Saturday, February 12.
Leading real estate website Zillow.com is listing Ashton's house for interested home buyers and the listing agent is personally donating a portion of his commission to DNA Foundation.
View the house and find out about tours here.
The Demi and Ashton Foundation (DNA) was founded in 2010 by Demi Moore and Ashton Kutcher to help abolish modern day slavery, punish perpetrators and free the innocent and exploited victims. The DNA Foundation is committed to protecting the freedom of the world's most vulnerable citizens by forcing sex slavery out of the shadows and into the spotlight.