By Maxine Tatlonghari on
On March 6, LookToTheStars.org's Hollywood Insider, Maxine Tatlonhari, headed over to Bardot in Hollywood and attended the Bohemian Dream Party to benefit the amazing Young Storytellers Foundation.
Young Hollywood celebrities Zachary Levi and Jason Ritter hosted the event, which was well attended by stars, media and supporters of the charity.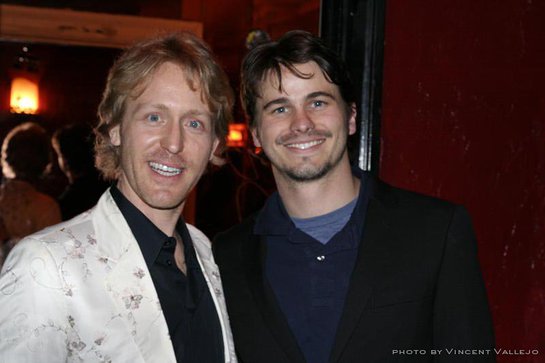 Event Co-Producer Mike L. Murphy and Host Jason Ritter
Attendees were able to bid on items such as autographed boxing gloves by Muhammad Ali, trips to Catalina, spa getaways, and vacations in Mexico.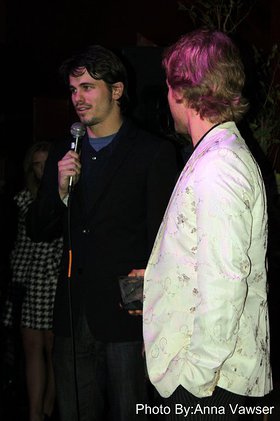 Jason Ritter speaks about his support of and passion working with the Young Storytellers Foundation
Upon entering, we were greeted by beautiful girls distributing beautiful roses (what a nice touch) and hundreds of flickering candles lit up the venue. The whole event was imbued with this organic, artistic vibe which featured live paintings by Girls Drawing Girls, palm readings, and magical acts. Magician Kevin Viner stunned the audience with his spectacular illusions featuring Arielle Kebbel (The Vampire Diaries) and Charlene Amoia (How I Met Your Mother).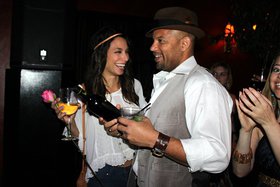 Actor Chris Williams and a guest enjoy Lucid Absinthe
Later in the night, Alexia Vassilio – as well as Mae Whitman (Parenthood) and Landon Pigg – performed on stage. Daniel Sunjata (Grey's Anatomy) and Genevieve Farrell (An American Girl on the Home Front) kicked back to their songs… and later Mae and Landon danced their hearts away hand-in-hand to the sounds of Vintage Trouble! Chris Williams (Lottery Ticket, Californication) was a happy bidder at the silent auction supporting a great cause. Lucid Absinthe kept the party going past the scheduled 10pm mark!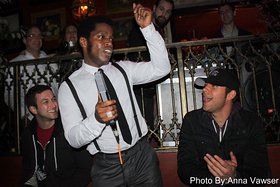 Zachary Levi (right) claps to the performance of Vintage Trouble
I also ran into Chelsea Traille of Burlesque (who is as sweet as she is beautifull) and another of my favorites – Tinsel Korey (Twilight Saga).
The night raised thousands of dollars for YSF. The Young Storytellers Foundation's mission is to develop self-expression, self-esteem, and literacy through the art of storytelling. The nonprofit organization serves under-served, arts-poor public schools in the greater Los Angeles area and brings entertainment professionals (including actors) into the classroom for one-on-one mentoring sessions with students as part of the larger curriculum in storytelling.